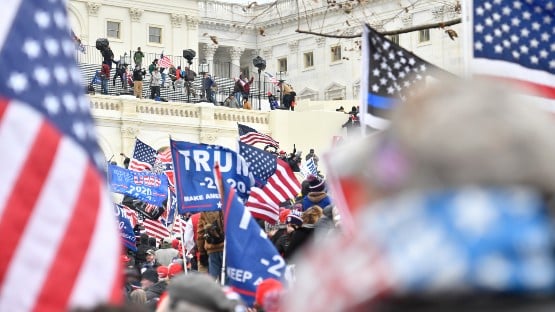 A Virginia man who sprayed a chemical irritant at officers during the Jan. 6, 2021, U.S. Capitol breach has been sentenced to 72 months in prison and 36 months of supervised release.
Markus Maly, 49, of Fincastle, was sentenced today. Maly was found guilty on Dec. 6 following a jury trial.
Maly was found guilty of multiple felonies for:
interfering with police during a civil disorder
two counts of assaulting, resisting or impeding certain officers using a dangerous weapon
entering and remaining in a restricted building with a dangerous weapon
disorderly or disruptive conduct in a restricted building or grounds with a dangerous weapon
engaging in physical violence in a restricted building or grounds with a dangerous weapon
He was also found guilty of:
disorderly conduct in a Capitol building
act of physical violence in a Capitol building or grounds
His actions and the actions of others disrupted a joint session of the U.S. Congress that was in the process of ascertaining and counting the electoral votes related to the 2020 presidential election.
According to court documents and evidence presented by the government at trial, Maly pointed and sprayed a chemical irritant at a line of police officers attempting to secure the area of the Lower West Terrace of the Capitol Building. He additionally assisted co-defendants Jeffrey Scott Brown and Peter Schwartz in the attack. Later in the afternoon, Maly exited the tunnel area with a riot shield and testified that he intended to take the shield home as a trophy.
Maly messaged his girlfriend in response to her concern about violence: "I know …I've got stories though," and "I[t] was so fun …" he wrote.
"I stood my ground and went back for seconds and thirds even," he wrote in conversations on social media following the attack.
He also told another individual through social media, and later admitted on the stand at trial, that his participation in the events of January 6 was "fun."
More than 1,000 individuals have been charged in nearly all 50 states for crimes related to the breach of the U.S. Capitol, including nearly 350 individuals charged with assaulting or impeding law enforcement.
Related stories
Jan. 6 insurrection: The evolution from wanted posters to effective crowdsourcing
Two Virginia men are the latest charged in Jan. 6, 2021, U.S. Capitol attack
'60 Minutes' to feature Denver Riggleman revelation about Jan. 6 phone call
Virginia man among three found guilty for assaulting police officers at Capitol on Jan. 6

Ohio man pleads guilty to felony charge for actions in Jan. 6 U.S. Capitol breach
Tennessee man pleads guilty to felony charge for actions in Jan. 6 Capitol breach
West Virginia man arrested on felony charges in connection with Jan. 6 coup
Virginia police officer pleads guilty to felony conspiracy charge in Jan. 6 Capitol breach
Virginia man arrested on charges stemming from Jan. 6 insurrection