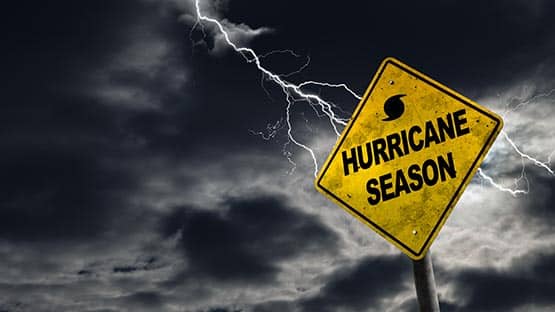 Virginia Governor Glenn Youngkin declared a State of Emergency in advance of Tropical Storm Ophelia, previously known as Tropical Cyclone Sixteen, which is expected to have impacts on Virginia beginning on Friday.
This is an unusual storm, which has been difficult to accurately forecast, approaching large population centers with many at-risk communities. Accordingly, the pre-positioning of response assets and supplies will be necessary to assist our local and state partners, according to the governor's office.
"As this storm has organized and strengthened, it's becoming clear based on the latest forecasts that impacts to the commonwealth are likely," said Youngkin. "We want to ensure that all communities, particularly those with the greatest anticipated impact, have the resources they need to respond and recover from the effects of this storm. Since this storm has the potential to have a range of impacts across numerous localities in the Commonwealth, I encourage all Virginians and visitors to keep up with the latest forecast for their area from a trusted source, make a plan, and have their emergency kits ready."
This State of Emergency allows the state to mobilize resources and equipment needed for response and recovery efforts.
Virginians should be prepared for the potential of severe rainfall, flooding, wind damage, tornadoes and other storm-related impacts from Friday through Sunday.
The Virginia Emergency Support Team is actively monitoring the situation and coordinating resources and information to prepare for this storm.
The Virginia Emergency Operations Center will coordinate preparedness, response and recovery efforts with local, state and federal officials.
Price gouging
Attorney General Jason Miyares announced today that Youngkin's declaration of a state of emergency has triggered Virginia's anti-price gouging statutes designed to protect consumers from paying exorbitant prices for necessities during an emergency event.
"Virginia's anti-price gouging statutes exist to protect Virginians during a time  of crisis from being taken advantage of by bad actors," said Miyares. "Any violations of Virginia's Anti-Price Gouging Act or exploitation of Virginians' wallets will be thoroughly prosecuted by my office based on the Virginia Consumer Protection Act."
Enacted in 2004, Virginia's Anti-Price Gouging Act prohibits a supplier from charging "unconscionable prices" for "necessary goods and services" during the 30-day period following a declared state of emergency. Items and services covered by these protections include, but are not limited to, water, ice, food, generators, batteries, home repair materials and services and tree removal services.
The basic test for determining if a price is unconscionable is whether the post-disaster price grossly exceeds the price charged for the same or similar goods or services during the 10 days immediately prior to the disaster.
Violations of Virginia's Anti-Price Gouging Act are enforceable by the Office of the Attorney General through the Virginia Consumer Protection Act.
Complaints should be reported for investigation to the Office of the Attorney General Consumer Protection Section, with the exception of claims related to gasoline and motor fuel prices, which are handled by the Virginia Department of Agriculture and Consumer Services.
Consumers can contact Attorney General Miyares' Consumer Protection Section for additional information or to file a complaint:
More information can be found at www.oag.state.va.us/consumer-protection/.
Preparedness recommendations for Virginians
Make a plan. Plan in advance a route to a safe place, how you will stay in contact with family and friends, and what you will do in different situations. Additional planning resources are available online.
Prepare an emergency kit. For a list of recommended emergency supplies to sustain your household before, during, and after the storm, visit VAemergency.gov/emergency-kit.
Stay informed. Virginians should follow the Virginia Department of Emergency Management on X and Facebook for preparedness updates and their local National Weather Service office for the latest weather forecast, advisories, watches or warnings. Power outages are always a concern during weather events. Make sure you have a battery-operated radio available so you can still receive life-saving alerts.
For more information about preparing your business, your family, and your property against hurricane threats, visit VAemergency.gov/hurricanes and ready.gov/hurricanes.