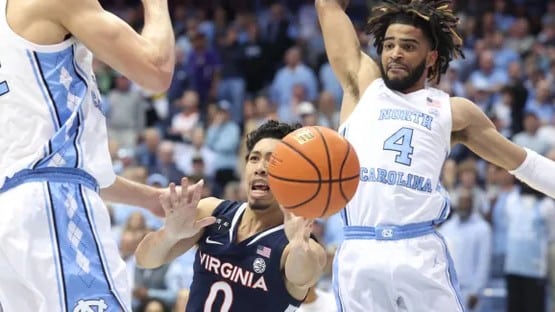 Sixth-ranked Virginia cut a 16-point halftime deficit to nine, then held North Carolina without a field goal for nearly five minutes.
But then the Cavaliers went more than seven and a half minutes without a make from the field.
The shots started falling late, too late, after the outcome had been decided, in what turned into a 71-63 loss, the second straight for the suddenly reeling 'Hoos.
Virginia (21-6, 13-5 ACC) came out of the locker room running good offense, connecting on six of its first seven shots, putting UNC (18-11, 10-8 ACC), in desperate need of a win to keep its NCAA Tournament at-large hopes alive, back on its heels.
And then, it all stopped.
Tony Bennett called a timeout at the 11:25 mark, and the margin at nine, at 52-43, to call a set play.
The action went to Kadin Shedrick, who had an open lane to the rim, but missed the layup, a theme of the night for Virginia, which only made 10 of its 28 shots at the rim on the night.
The Shedrick miss was one of 12 in a row over the seven and a half minute drought, six of the misses coming at the rim.
UVA also had a three-minute stretch in which it missed five straight free-throw attempts, one of them a one-and-one, equating to leaving six points off the scoreboard, for no good reason.
What little credit is due to the team is that Virginia did get the margin as close as six, at 69-63, on an Armaan Franklin fadeaway with 21 seconds left.
The Cavaliers made six of their last 10 shots to make it respectable, but Carolina, which never trailed, was never seriously threatened after back-to-back threes by reserve Puff Johnson, who was a 27.8 percent shooter from three, on 10-of-36 shooting, coming into the game, that gave UNC a 27-15 lead at the 5:50 mark of the first half.
The Heels' three-point shooting was the story of the game on their side. Coming in shooting 29.9 percent, UNC was 9-of-16 from long-range in the first half, and finished the day 10-of-22.
Pete Nance, who missed the teams' first matchup in JPJ last month, had a game-high 22 points on 7-of-10 shooting, 4-of-4 from three.
RJ Davis had 16 points and 10 rebounds for North Carolina.
Jayden Gardner had 19 points and 12 rebounds for Virginia, with Franklin chipping in 14 points.
Highlights
Link to highlights on YouTube.
Box score