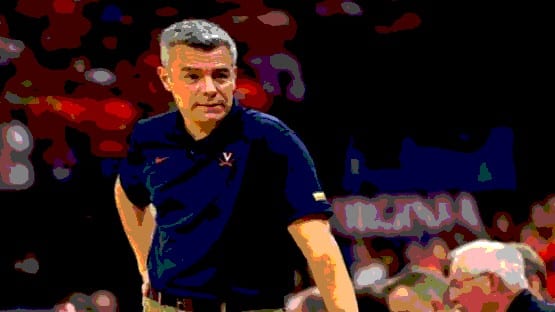 It's back to square one for Virginia Basketball, which found itself taken to school by a Wisconsin squad that played Bennett Basketball loads better than the team actually coached by the guy with the last name Bennett.
"For all of us, it's humbling to go through that," UVA coach Tony Bennett said after the 65-41 loss Monday night in Fort Myers.
It looked like the Wisconsin kids knew what the Virginia kids were supposed to be doing better than the Virginia kids knew what they were supposed to be doing, which wouldn't be all that shocking – Greg Gard and Tony Bennett cut their teeth as young assistants together at Wisconsin under Bo Ryan.
Bennett is still figuring out how he wants his 2023-2024 Virginia team to play, and five games in, he's been keeping things pretty vanilla.
The only tweak to the mover-blocker offense that I've seen to this point is that he's having the fours and fives set their screens closer to the three-point line to try to keep the middle of the floor open for dribble-drives and create perimeter looks for 6'9" stretch five Jake Groves.
The innovations that we saw last year – high pick-and-rolls for the point guard, middle screens to create action in the middle third – haven't made their way in with this group.
Wisconsin established early that it was ready for what it had seen from its film study of Virginia's mover-blocker, and Bennett and his staff never did adjust – frustratingly, the answer from the Virginia sideline seemed to be, OK, it's not working, just run what we run harder, and maybe it will.
"They were going under a lot of our screens, sitting in the lane waiting. It was hard to get spacing," Bennett conceded in his postgame chat with reporters.
One more concession from Bennett: "We got to keep taking a look at stuff, how we can adjust things."
Um, yeah.
The rotation might also need some adjusting to address a glaring deficiency on the boards.
Wisconsin had a – gulp! – 48-21 supermajority advantage in rebounds.
Stat of the night: the Badgers had 20 offensive rebounds; Virginia had 18 defensive rebounds.
Virginia's other Power 5 opponent, Florida, had a 50 percent offensive-rebound rate in the 73-70 Virginia win back on Nov. 10.
KenPom.com has Virginia opponents grabbing 35.1 percent of their offensive rebounds. That rate ranks 310th nationally.
"Their offensive rebounding was significant, whenever either they missed a shot, or you had a good stand. You know, to give up that many offensive rebounds was very challenging," Bennett said.
Bennett went with three guys at the five spot – Blake Buchanan, who got the start for the third straight game, but only logged 14 minutes, and didn't start the second half, with Bennett going with Groves to try to space the floor on the offensive end.
Jordan Minor, the grad transfer from Merrimack, who has barely seen the floor other than garbage time, got five minutes at the five last night.
None of what Bennett tried there worked out.
Their cumulative stat line: 40 minutes, four points on 1-of-9 shooting, five rebounds, two blocked shots, two turnovers.
So, nothing on offense, no rebounding, very little on the defensive end, where Bennett felt "they got us behind, and we were a little, a little lackadaisical, or just behind the play, and that hurt a lot."
Wisconsin center Steven Crowl was a maestro in the post on the other end.
Crowl's counting numbers – 15 points, 10 boards, two assists – didn't tell the whole story.
Gard ran his offense through Crowl, allowing his 7-footer to create shots for himself if he had one-on-one matchups in the post, and spin the ball out of Bennett's post doubles.
If basketball scoring allowed for more than one assist on a made basket to reflect the impact of the pass that led to the pass that resulted in a made bucket, Crowl could have easily had a half-dozen more.
"Their maturity and their experience of their frontcourt players, and really, you know, all of them, really showed," Bennett said. "When we tried to trap the post, we work hard to be there early, we weren't, they hit shots out of it. When we didn't trap the post, they scored over the top, so they kind of had us either way, but the ball did get in there pretty easy as well."
It really is back to the drawing board for Bennett, who needs to figure out how to rebound the ball, create spacing on the offensive end, and get paint touches with guards not named Reece Beekman.
"This is, how can we get better, keep working," Bennett said. "We knew with this inexperience, we would face some of this, and we got to just keep finding ways to take a step, but I think the film will show a lot, and we lost our way defensively for sure, and then we got to make, you know, do a little better offensively, of course."