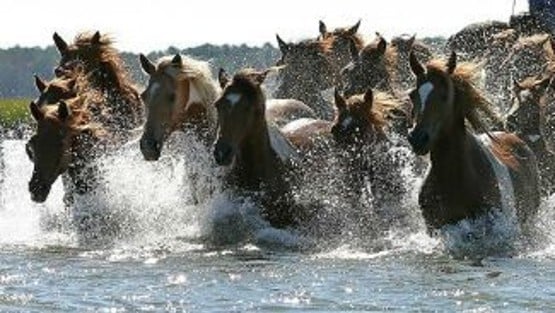 Possibly the most heartwarming state law which took effect July 1, 2023, was naming the Chincoteague pony the official state pony of Virginia.
Led by Sophia Gallivan, 17, a 4-H teen from Accomack County and a student at Broadwater Academy on the Eastern Shore, the official state pony is added to a list of state bird, insect, tree and bat.
"My dad and I were driving home from a horse show, and we were talking about iconic things from each state," Gallivan, a horse enthusiast and member of the Chincoteague Pony Drill Team, said. "The Chincoteague pony is such a Virginia icon that I thought it was probably the state pony, but then we found out it wasn't recognized at all. I was like, 'This has to be done.'"
The Chincoteague Volunteer Fire Company, the organization that manages the legendary wild ponies, backed the idea. Gallivan contacted her local representatives, Del. Robert Bloxom and Sen. Lynwood Lewis, who then introduced matching bills during the 2023 General Assembly.
"It was a whirlwind," Gallivan said. "I visited the Pocahontas Building three times, spoke with a lot of legislators, and gave handouts about the pony's history, importance and economic impact on Chincoteague."
With overwhelming bipartisan support, both bills passed and Gov. Glenn Youngkin signed the legislation into law March 27.
"It's just fabulous," Julie Williamson, an equestrian and member of the Virginia Farm Bureau Federation Equine Advisory Committee, said. "We're the only people in the world who have these Chincoteague ponies, and I think it's so cool that a 17-year-old made this happen … it makes me proud as a horse person."
Each year, tens of thousands visit Chincoteague Island to witness the annual pony swim, when the herd swims from their home on Assateague Island across a channel to Chincoteague Island. On Chincoteague, the wild ponies receive veterinary checkups, and some are sold at auction to control the herd population and raise funds for local fire departments and the animals' care.
Popular children's book Misty of Chincoteague by Marguerite Henry, published in 1947, brought the ponies international admiration. Beebe Ranch, the farm in the book, was recently purchased by the Museum of Chincoteague Island to save it from development.