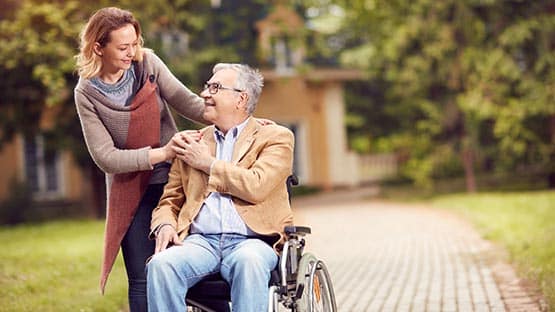 Virginia Commonwealth University is partnering with the Virginia Department of Health to build a clinician network for nursing homes and long-term care facilities.
The Virginia Long Term Care Clinician Network brings together medical directors and clinicians practicing in nursing homes and assisted living facilities with the purpose of sharing best clinical practices, including for residents diagnosed with COVID-19.
"Nursing home medical directors and clinicians are subject matter experts in providing healthcare in the long-term care setting," said Leland Waters, Ph. D., project director of VCU Center on Aging. "Throughout the pandemic, they have experienced how a nursing home COVID- 19 outbreak can quickly deplete equipment and staff resources, leading to suboptimal clinical care. As COVID-19 variants and new therapeutic options continue to arrive, it is vital that we have a unified approach to connect and engage with this group to be able to better understand the clinical management of COVID -19 for one of our most vulnerable populations."
The goals of the network include developing a consensus-derived COVID-19 treatment algorithm specific to long-term care medicine, disseminating monthly updates focusing on new COVID-19 infection prevention guidelines and treatment options, establishing a monthly video/audio forum and creating a central website for network members.
"This work represents one of the exciting aspects of healthcare post-COVID: collaboration. Clinicians who work in post-acute and long-term care medicine have been unified through the COVID-19 tragic pandemic," said Dr. Christian Bergman, assistant professor in the VCU Division of Geriatric Medicine and Virginia LTC-CN principal investigator. "This grant represents an opportunity to learn and build back stronger. We aim to unite clinicians who practice medicine in this challenging work environment while helping some of the most frail members of our community."
In December 2022, VDH announced that it was awarded $9.9 million to assist nine organizations across the Commonwealth. VDH awarded VCU $820,000 to support the two-year project.
The Centers for Disease Control and Prevention provided the funding as part of the Virginia Long-Term Care Infrastructure Pilot Projects as a result of the American Rescue Plan Act of 2021 which was signed by Congress in May 2021.
"VDH is excited to partner with VCU and other organizations across the commonwealth to develop and implement innovative programs that will lead to a better method of providing care," said R. Christopher Lindsay, Chief Operating Officer of the Virginia Department of Health. "These funding opportunities will encourage incredible advancement in the way clinicians can treat and care for some of our most vulnerable populations."