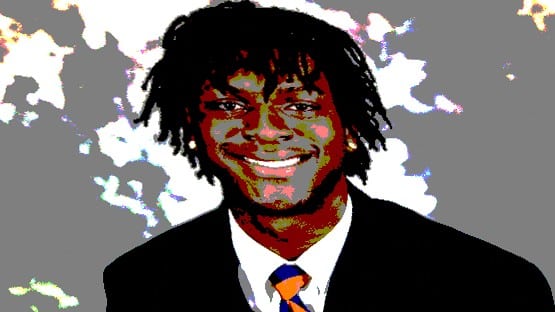 Virginia has a recent history with athletic quarterbacks getting on the field at other positions. Three-star 2022 recruit Delaney Crawford wants to add his name to the list.
"It was his decision," head coach Tony Elliott told reporters after practice on Monday, sharing that Crawford, a 6'2", 200-pound sophomore, will be getting looks at wideout and in the return game.
Crawford was among the last recruits from the Robert Anae/Air Raid era, committing to Virginia on Nov. 29, 2021, three days before the shock resignation of head coach Bronco Mendenhall. He signed his letter of intent on Dec. 15, 2021, five days after Elliott had been hired to replace Mendenhall.
A a champion sprinter and hurdler in high school, Crawford was a good fit into Anae's scheme – think: Bryce Perkins, Brennan Armstrong, guys who can move the chains with their feet and their arm.
His fit into Elliott's pro-style offense is still coming along, you could say.
Crawford, ahead of his decision to switch positions, was mired well down the depth chart at QB, behind Tony Muskett, a transfer from Monmouth, a mid-tier FCS school, and Anthony Colandrea, a true freshman who is already penciled in at #2, and Elliott said Monday is "pushing" Muskett of late in training camp.
Anae, to his credit, found ways to get his QB recruits with athleticism onto the field in other ways – moving former four-star Keytaon Thompson to wideout, which worked out well, with KT leading the team in receptions in 2021 and 2022, and also using Jacob Rodriguez and Iraken Armstead in the backfield and in the slot in 2020 and 2021.
Elliott publicly toyed around with the idea of using Jay Woolfolk, the backup to Armstrong in 2021 and 2022, in the return game last fall, but ended up not doing so.
Woolfolk stepped away from the football program last month, saying he intends to concentrate on baseball, with an eye toward being an early pick in the 2024 MLB Draft.
"Delaney Crawford, you know, wants to figure out how this season he can help the 'Hoos, right. And right now with where he is in his development, the best is for him to play some receiver, kick returner, because of his dynamic athleticism," Elliott said.
"I think we all know how athletic he is, and quarterback, you know, with where he is on the depth chart, he's not getting as many reps, you know, as he would like. So, he just came to me, and it was his decision, he said, Coach, I want to explore finding a way to help this football team, wherever that may be," Elliott said.
Getting Crawford looks with the receiver group will add depth there, and he could be an impact guy in the return game with his game-breaking speed.
Elliott left open the possibility that Crawford could return to QB after the season if he wants to compete again for the starting job next year.
"This is where we're going to start, and then after the season, we'll reevaluate if he wants to jump back in and try to start in the spring, you know, competition wise at quarterback, and then we'll explore that," Elliott said.