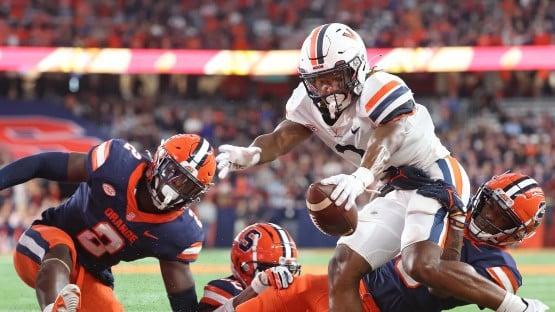 Virginia football coach Tony Elliott was in Louisville earlier in the week to visit UVA tailback Perris Jones in the hospital.
Jones, on Friday, was released from the hospital to a rehab center, where he will spend the next several weeks recuperating from the spinal surgery that came after the harrowing hit he took in the Cavaliers' 31-24 loss at Louisville on Nov. 9.
The sixth-year senior, a former walk-on who earned the starting tailback job last season, then returned this year for what would presumably be his final year of competitive football, surprised his head coach and Keith Gaither, the running-backs coach who made the trip to Louisville with Elliott.
"Here's a 25-year-old young man that's football career presumably is finished, and he's in a hospital, just had major surgery, and the first thing he says, he apologizes to Coach Gaither and myself for fumbling the football," Elliott told reporters after Virginia's 30-27 upset of Duke on Saturday.
The play on which Jones was injured was a second-and-27 from midfield. Quarterback Anthony Colandrea checked down to Jones, who advanced the ball to the Louisville 42 before taking a helmet-to-helmet hit from Cam'ron Kelly, who was briefly a UVA player, after transferring to UVA in the spring and participating in spring practice.
Jones did fumble the ball, and the fumble was scooped up by wideout Malik Washington, who ran untouched down the right sideline for a TD that gave Virginia the lead in the game.
The attention in the stadium quickly turned to Jones, who was immobilized on the turf a few feet from the Louisville sideline.
The game was halted for nearly 20 minutes as trainers and medical staff from both programs tried to stabilize Jones, who was loaded into an ambulance and taken to UofL Hospital.
It was a tough week for the UVA program; the injury that sent Jones to the hospital came four days before the one-year anniversary of the shooting deaths of Devin Chandler, Lavel Davis Jr. and D'Sean Perry.
The past year has tried the faith of many in the UVA football program, for obvious reasons.
Elliott talked up a "profound statement" that Jones made during their visit earlier this week.
"We were talking about the situation and just talking about how everything happened, and he said, 'I remember laying on the ground, and once Kelli (Pugh) and everybody kind of calmed me down and stabilized me, I remember closing my eyes and saying, 'God, I'm listening'. And for a young man to say that just inspired me, as a 43-year-old man who's been through a lot," Elliott said.