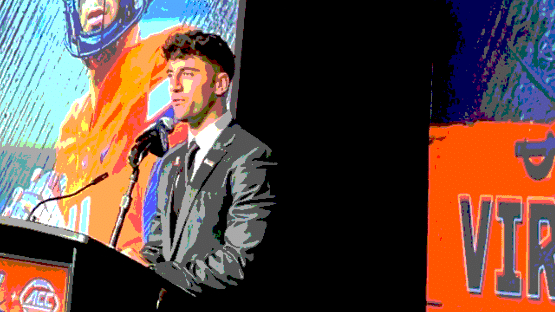 Tony Muskett has a chip on his shoulder. That's not a bad thing.
He feels he was, as he put it, "under-recruited" coming out of high school in Northern Virginia, which is how he ended up at Monmouth, a mid-tier FCS program in New Jersey.
And then he wasn't exactly a highly sought after guy when he hit the transfer portal late last year, which is how he ended up at Virginia, a bottom-feeder in the ACC, which the commissioner concedes is a distant third in what is a two-superpower world.
Tell Tony Muskett that he's not up for the job of starting quarterback, which I pretty much did, writing a story in May citing a source who said the UVA coaching staff was privately expressing concerns about Muskett's fit with the program.
Kid shakes it all off.
He knows he has a lot to prove, and he's ready to get to the proving.
"I've always felt like I could play with top players in the country," Muskett told a small group of reporters gathered around him for an interview at the 2023 ACC Football Kickoff on Wednesday in Charlotte.
"Coming out of high school, I felt like I was under-recruited. And so you know, having the success I did up at Monmouth, and then having this opportunity, it was a no-brainer for me. I can't wait to get out there Sept. 2 to play against, you know, truly the best in the country, so I can show that I belong."
Muskett put up nice counting numbers at Monmouth, where he was a three-year starter – passing for 5,687 yards in his 23 career starts, completing 64.3 percent of his pass attempts, with 51 TDs, 16 INTs and a 149.9 career passer rating.
He's aware of what you're thinking when you see those glitzy stats – yeah, they came at the FCS level, against FCS-level defenses, FCS-level pass rushers that are smaller and not as fast, FCS-level corners and safeties who couldn't get a sniff from the Power 5.
"Obviously, at this level, there's a different level of athletes," Muskett said. "But you know, running the pro-style system, it's really all about timing, so man coverage is man coverage, you know, put the ball in the right place where your guy can get it. In terms of other conceptual stuff, it's timing, so it's, I'm here, I'm here, if he works over there, I'm here.
"So, it's just, you know, knowing how to play the game the right way. Defensive speed, it does play a factor obviously, because things might have to be a little bit quicker, but you know, college athletes are college athletes, and I think I'll be just fine."
'Confidence'
The thing with Muskett that most impresses UVA head coach Tony Elliott, who coached two first-round picks in his time as offensive coordinator at Clemson, DeShaun Watson and Trevor Lawrence, is Muskett's confidence.
"From Day 1, he wasn't afraid to go into the locker room and say, you know what, fellows, I'm here to compete, I'm going to do it the right way, I have tremendous amount of respect for everybody in here, but this is the way that I lead," Elliott said.
That upfront approach, Elliott said, "quickly galvanized the guys."
"Then from there, he just continued to be who he is, and he is a guy that's got a lot of confidence, but he knows how to manage it," Elliott said. "He is a team-first guy. He is always going to promote his team, and he just has that it factor.
"It's hard to describe. When you talk about quarterbacks, you can't coach it, right, but you know it when you see it, and he just has that presence about him," Elliott said.
From a mechanical standpoint, "You watch him throw the ball in adverse conditions, and you see that the accuracy is there," Elliott said.
"That's always a challenge when you are evaluating because you do a lot of evaluation on tape, especially when you are dealing with the transfer portal," Elliott said. "When you got to see him in spring practice, like, OK, now, he does throw an accurate ball. You know what, it's a very catchable ball."
What drew Elliott to Muskett in his portal evaluation was that Muskett, at Monmouth, ran a pro-style offense similar to the one that Elliott and offensive coordinator Des Kitchings have installed at Virginia.
That's a big part of what drew Muskett to Virginia – the familiarity.
"Similar concepts, similar tags, all that kind of thing," Muskett said. "So, coming down here to play with Coach Elliot, Coach Kitchings, it's just translating the terminology, you know. For me, my decision-making process and my footwork, all those things, they marry up pretty similarly. So, it's just making the transition with terminology. I can bring a level of experience and playing experience in this offense that maybe we didn't have before."
Comfort level
Elliott concedes now that he tried to ask too much of his offense last year as guys like three-year starter Brennan Armstrong, now at NC State, and wideouts Dontayvion Wicks, Keytaon Thompson and Billy Kemp, all of whom had years of work and experience in Robert Anae's Air Raid scheme, struggled to pick up the Elliott/Kitchings pro-style offense.
"In fairness to the guys that were there last year and transitioned, they had a lot of success from a Virginia standpoint. In their minds, why are we changing?" Elliott said. "Unfortunately, just a transition in coaching, you're going to change. There's going to be a philosophical change. There was a lot of things. You've got pretty much a brand new offensive line. You've got all kind of different dynamics that contributed to it. Not making excuses, but just kind of setting the context of the situation.
"But I think in Year 2, now what you have is when we went to spring practice, there wasn't as much of the installation of the program, the core values, the practice habits that were having to be corrected in spring practice, right. That you can focus more on the details of the system to get down to building the fundamentals that you need.
"So, I think as we transition past that into Year 2, there's a lot more familiarity with what we're doing. Then you look at Tony's transition, and even Colandrea, they came in, and for them they had a different perspective, ready to change.
"I think in fairness to them and prior to, there was a little bit more ease of transition, because when I look at it, what coaches did before I got there was really, really good, but it was unique, it was different, right. It was something that they kind of did on their own that they developed, which was different. So the terminology, all that stuff was different.
"I think you'll see an improvement, a significant improvement, just with the continuity of what we're doing and guys understanding and now that they understand they can play fast, they can play physical, they can play free, which gives them the ability to execute at a higher level."
QB1
Elliott brought Muskett in with no guarantee of playing time. With three-year starter Armstrong now at NC State for his grad-senior year, Muskett was set to battle with Armstrong's backup for the past two seasons, Jay Woolfolk, into the first couple of weeks of training camp, which starts next week.
Elliott told reporters on Wednesday that he was surprised by the announcement from Woolfolk earlier this month that he is giving up his spot in the football program to focus on baseball, where he is a projected second- or third-round pick in the 2024 MLB Draft.
Muskett, who grew close to Woolfolk with their work in the QB room, said he was surprised by the Woolfolk news as well.
"We didn't know about it until, you know, Coach Elliott called a team meeting," Muskett said. "I obviously see why he did it. I might do it, too. You know, he's gonna make a lot of money playing professional baseball, so I'm more than happy for him, you know. He's got such a bright future. He's throwing 99 consistently, will probably touch 100, 101 with the full offseason, so I can't wait to see him out there. I'll be going all of his games next year. But yeah, I can't wait to watch them on the mound next spring."
Thin QB room
This leaves Muskett as the presumptive QB1 going into training camp, with not a lot of depth behind him.
Anthony Colandrea, a true freshman who split the reps at QB in the spring game with Muskett, was slated to be the #3 guy, but now will have to move up to the backup slot.
Four guys who weren't expected to challenge Colandrea for the #3 spot – Jared Rayman, Grady Brosterhous, Devin Sherwood and Delaney Crawford, none of whom, like Colandrea, have taken a snap at QB at the college level – are the next guys up.
That's a remarkably light on experience QB room right there – one guy with 23 games at the FCS level, and five guys who haven't thrown a ball in anger since high school.
"We've got a very talented room, and I want to let people know that," Muskett said, offering up a hearty defense of his guys. "You know, Anthony Colandrea came in first year, he's very talented. You know, Jared Rayman, our fifth-year quarterback, Grady Brosterhous,  Devin Sherwood, Delaney Crawford. I mean, they can all play the position at a high level, and like I said, Coach Lamb, he's so good about, you know, making sure we prepare as if each of us were the starter.
"When push comes to shove, I feel like you can put anybody out there, and they will still be able to play at a high level, so I'm not too worried about it, you know. I have a lot of faith in the guys."
Already feels like home
Muskett's older brother, Peter, was a walk-on quarterback at, gasp, Virginia Tech.
"I never liked my older brother," Tony deadpanned, before trying to sell the room on how he's "been a UVA fan for some time now."
Maybe, maybe not, but he's there now, and as a Northern Virginia guy, he's back home.
"Having my whole family right up in Northern Virginia, having all my high school friends, friends I made along the way, telling me they're going to be able to come to games and watch me play live, that's all you can ask for," Muskett said. "Especially at a university like Virginia. It's high academics. They do things the right way, in my opinion. Then playing ACC football, one of the best conferences in the country. I can't wait to get out there on Sept. 2 and just show the world what we're about."
After three years trying to prove himself up in New Jersey, Charlottesville is "my second home now."
"These guys in the locker room are truly now my brothers, the playbook, I know like the back of my hand, and everything's just, you know, a lot more comfortable, everything's flowing a lot better now. So, I'm super excited for camp next week, get rolling in the pads and get ready to go," Muskett said.
Hitting the ground running
We've alluded to the Sept. 2 season opener a couple of times here. What we've not said is the game is in Nashville, and the opponent is Tennessee, which won 11 games in 2022, and was picked to finish second in the SEC East in 2023, behind defending national champion Georgia.
His first snap will come in front of roughly 70,000 fans wearing orange – the vast majority wearing the lighter shade, bursting inside to sing "Rocky Top" as often as they can.
It will be a far cry from playing games in front of a few thousand in FCS.
"To be honest with you, I think there's pressure any time you play," Muskett said. "I went to Monmouth. I was fortunate to start there for three straight years, as a true freshman and then sophomore and junior year. Any time you are playing college football, you go out and try to win.
"I don't let external factors dictate how I handle my business. Every time I approach a game, I approach it the same way, whether it's a championship game or you are playing the worst team in the division.
"Every game is as important as the next. When you have that mentality, it doesn't matter if you are playing in front of 3,000 people or 75,000 people. I go out there. I put internal pressure on myself, and I try to perform my best every single time I take the field."