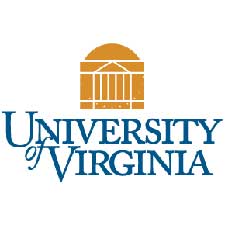 Startup companies often pride themselves on being atypical, so it is fitting that the University of Virginia's first Startup Career Fair was not your typical career fair.
For two hours on Tuesday evening, students gathered at Newcomb Hall to meet with more than 30 startups eager for their talent. There were résumés and handshakes, but there was also a DJ, food from local small businesses like Grit Coffee, Campus Cookies and Caribe Juice, and even some colorful lighting.
"We wanted to create a more relaxed environment for students to converse and talk with employers," said second-year student Andy Page, a programs manager with student entrepreneurship organization HackCville, which helped organize the fair. "It is less intimidating for students and allows employers to get a better idea of a student's personality."
In addition to Tuesday's meet-and-greet, students heard from startup founders during panel discussions, enjoyed small-group coffee chats with alumni who have founded or work with startups, and concluded the festivities with a tailgate before the men's basketball game Wednesday night. The events were sponsored by an array of University and local organizations, including the UVA Career Center, HackCville, the Fourth-Year Trustees, the Charlottesville Business Innovation Council, the UVA Data Science Institute, the Batten Institute for Entrepreneurship and Innovation, the TomTom Founders Festival, the Engineering Career Development Center, the Galant Center for Entrepreneurship and the Frank Batten School of Leadership and Public Policy.
Each event was designed to facilitate the face-to-face connections that are so important in a job search. These connections can be more elusive for students interested in startup companies, which often do not have the resources to mount large-scale recruiting efforts on their own.
"Many startups are eager for the exposure and happy to participate in events like these," said second-year student Jack Ross, who participated in the career fair as a representative for local startup Willow Tree Apps. "I have found that when students talk to these founders, it is electrifying and really piques their interest in startups."
The fair was created in response to a growing interest in entrepreneurship across Grounds, as increasing numbers of students are eager to either start their own company or secure internships and entry-level positions at young, fast-growing companies.
"Students love the excitement, the work ethic, the casual atmosphere and the devotion to a cause that you find in many startups," said Everette Fortner, UVA's associate vice president of career and professional development and the head of the UVA Career Center.
Several of the startups attending were founded by, or employ, UVA alumni or faculty, and many are based nearby in Washington, Richmond or Charlottesville – which was recently ranked as the fastest-growing venture capital ecosystem in the U.S.
"There are many great startup communities on the East Coast, such as Charlottesville, Washington, Richmond, Asheville or Charlotte," Fortner said. "This year's fair should help students realize that those communities are there."
The Startup Career Fair is the latest of several career fairs held by the Career Center recently. On Jan. 27 and 28, 140 companies and around 1,300 students descended on Newcomb Hall for the Spring Job & Internship Fair. In conjunction with that event, the Career Center also hosted the seventh annual Green Job & Internship Fair for students interested in jobs related to renewable[?] energy, sustainability or other environmental concerns. The School of Engineering and Applied Sciences also held its annual Spring Engineering, Science and Technology Career Fair this week. On Friday, students can go to Georgetown University for the Government and Nonprofit Expo career fair, open to UVA and other partner institutions.