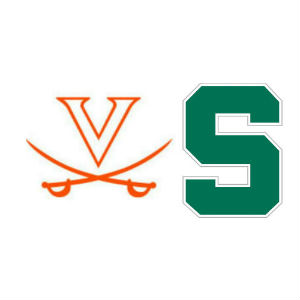 Tony Bennett has no chance of outdueling Tom Izzo. It's a legacy thing: us UVa. types wouldn't understand.
See, Izzo has never had a senior class graduate that didn't make it to a Final Four at some point in its run. And this year's Michigan State senior class – led by Adreian Payne and Keith Appling – has not been to a Final Four.
(Sparty's last Final Four appearance came in 2010. Izzo has been to six. UVa., in the history of the program, has been to two, in 1981 and 1984.)
While Izzo has been Final Four-ing like crazy in his career, Bennett is making just his second appearance in the Sweet 16, and he's never been beyond that round.
(Izzo has been to 12 Sweet 16s.)
The idea that Izzo, veteran of 12 Sweet 16s, six Final Fours, would fall prey to a guy who has no idea how to get past this round is laughable. (To the pundits. And people posting to Michigan State message boards.)
Pity poor Tony. He has no idea how to handle the media glare of the Sweet 16, in New York City, Madison Square Garden, to be specific.
He'll have to answer questions from a much bigger media contingent than ever. So will his players.
Izzo has a big advantage over Bennett here, no doubt. He's had to handle 12 pre-Sweet 16 press conferences. And also had to prepare his players for, you know, 12 Sweet 16 press conferences.
(We'll skip past the part where his last two teams didn't make it past the Sweet 16, and the previous one didn't make it past the Round of 32. And also past the point that … we're talking about friggin' press conferences. As a member of the press, I've yet to see a team lose the press conference and then lose the game because it lost the press conference. But what do I know? I mean, how many Sweet 16 press conferences have I been to?)
This time last year, Bennett was getting ready for questions about the NIT. The Michigan State boards have harped on that point. NIT! NIT! NIT!
(No doubt their fearless leader, Izzo, isn't game-planning for the 2012-2013 'Hoos. He didn't get to be their fearless leader by going on what the message boards have to say.)
The stat-geek numbers clearly favor UVa. (which is just as efficient on offense and a good bit more efficient on defense than MSU), but numbers, schmumbers. Izzo's guys will go out and smack UVa. on its mouth early, and then you can throw the numbers out the door.
(So what if the adjusted efficiency numbers point to an eight-point UVa. victory. Izzo isn't about numbers. NIT! NIT! NIT!)
News flash for State fans: Virginia is for real. Michigan State was the best rebounding team in the Big 10; UVa. was the best rebounding team in the ACC. Sparty is playing its best basketball since getting its starting five back together late after injuries to Payne, Appling, Gary Harris and Brendan Dawson put each down for a spell; Virginia is playing its best basketball with freshman point guard London Perrantes and sophomore forward Anthony Gill coming into their own since mid-February, adding two more scoring threats to complement Malcolm Brogdon and Joe Harris.
Michigan State has Payne, a 6'10" center with NBA skills in the post (54.3 percent shooting on two-point shots) and from long-range (43.8 percent shooting from three); UVa. has Akil Mitchell (in two games against projected top-three NBA Draft pick Jabari Parker in 2014, Mitchell hounded Parker into 12-for-35 shooting).
Michigan State has Izzo, undoubtedly a Hall of Fame coach; Virginia has Bennett, who doesn't have anywhere near the coaching pedigree of his sideline counterpart, but in his fifth year at UVa., at the age of 44, he is poised to do what Izzo did in his fourth year at Michigan State, at the age of 44.
Izzo, Coach K, Roy Williams, Jim Boeheim – none of them were Final Four coaches until they made it to their first Final Four.
Gotta start somewhere. There's some saying about if you can make it in New York, you can make it anywhere, that would seem to apply here.
– Column by Chris Graham