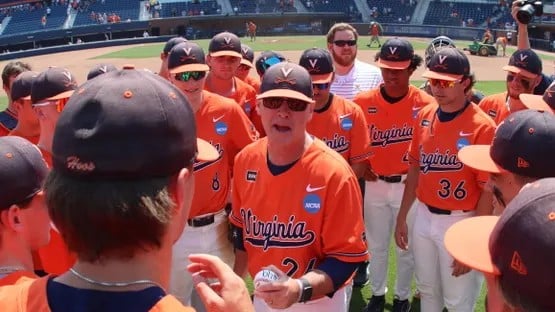 UVA baseball coach Brian O'Connor has landed a top D3 catcher off the transfer portal, getting the commitment of Salisbury University backstop Jacob Ference this week.
Ference, a 6'2", 210-pounder, slashed .364/.460/.773 with a 1.233 OPS, a school-record 14 homers and 45 RBIs in 2023.
Behind the plate, Ference threw out 10 of 25 would-be stealers on the season.
Ference will be in the running to take over the job at catcher with the departure of ACC Player of the Year Kyle Teel, who was a first-round 2023 MLB Draft pick, taken 14th overall by the Boston Red Sox.
There were three other catchers on the UVA roster in 2023: Ethan Anderson, a rising junior who was a third-team All-ACC selection at first base; Colin Tuft, who primarily platooned in left field with Harrison Didawick last season, and transferred in the offseason to Tulane; and Travis Reifsnider, a grad transfer from JMU whose eligibility has expired.
The 2023 prep recruiting class has one incoming freshman at catcher – Mark Gialluisi, a 5'11", 195-pounder from Westfield, N.J., who was ranked by Perfect Game as the 500th-best recruit overall nationally in the class of 2023, and was the 56th-ranked catcher in the class.
Back to Ference: the Mount Airy, Md., native has his undergraduate degree in business management, and will compete at UVA next season as a grad student.
While at Salisbury, Ference helped lead the Seagulls to a D3 national title in 2021, and in his four seasons at the school, his teams rang up a record of 117-27.
One might expect O'Connor to try to scan the portal for at least one more catcher type, for depth.