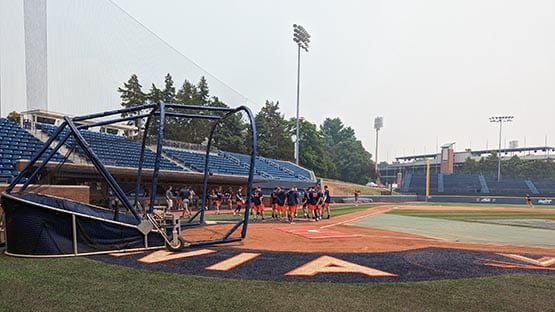 Update: Thursday, 7:05 p.m. Friday's Super Regional game against Duke will be played as scheduled. Game officials have been closely monitoring air quality in Charlottesville and will continue to do so throughout the weekend.
Levels are expected to be safe for student-athletes and fans Disharoon Park on Friday. Virginia Athletics will provide disposable face masks at both stadium entry points for fans that wish to wear during event.
Charlottesville Super Regional vs. Duke
Friday, June 9 – Noon (ESPN2)
Saturday, June 10 – Noon (ESPN2)
Sunday, June 11 – TBA *if necessary
How will the air quality impact play?
With a thick haze surrounding Disharoon Park, both Virginia and Duke's baseball teams held practice here Thursday afternoon, before Friday's scheduled opening game of the Super Regional.
Following the Cavalier workout, UVA coach Brian O'Connor had this to say about the conditions: "If today was game day, I don't think there would have been any issue. I don't have any knowledge of what's going on tomorrow as far as the weather and what's happening. But we'll play baseball when the NCAA tells us to play baseball. It's their tournament, and they're the ones that make the decision."
I caught up with an NCAA tournament official on site for the regional after the press conference, and he said that he had been in contact with the NCAA, and they were monitoring the weather conditions, paying close attention to the air quality index.
Wildfires in Canada have covered the Eastern Seaboard of the United States, reducing air quality. Numerous Major League Baseball games were cancelled Wednesday, along with Thursday afternoon's Washington Nationals home game with Arizona.
Parker on the hill for Game 1 
Virginia will start senior right-hander Nick Parker on the mound for game one of the Super Regional.
Parker last pitched in Virginia's second game of last weekend's Charlottesville Regional against East Carolina. He was terrific on the day, going seven strong innings, allowing one run on five hits, with one walk and five strikeouts to gain the win.
Parker said after his outing against the Pirates that pitching at Disharoon Field was special.
"I love the energy that the stadium brings in the postseason. It helps me to be more focused and dialed into what I'm trying to do," said Parker, who will be pitching in the Super Regionals for the first time.
He narrowly avoided facing his previous team, Coastal Carolina, which lost in the regional final Monday evening in Durham.
Parker is 8-0 with a 3.78 ERA and 74 strikeouts in 69 innings for UVA in 2023.
On March 24th, pitching against Florida State, the third batter Parker faced ripped a line drive right back to Parker, and into his face. He was in pain on the field before being helped off the field by coaches and teammates.
Parker suffered a broken cheekbone, though he didn't get a concussion, and had surgery four days later to repair his facial structure. Amazingly, he was back on the mound April 8th against Miami.
Can he handle the pressure of taking the ball in Game 1? Something tells me he can.
Stephan on his monster centerfield homer against ECU 
With Virginia clinging to a 4-2 against the Pirates in the eighth inning in Sunday's regional clincher, Anthony Stephan provided insurance with a three-run homer off the center-field wall.
Stephan flew around the bases and slid home on an inside-the-park homer – apparently.
The left field umpire ran toward the infield signaling the ball was a home run as it hit above the yellow line at the top of the outfield fence.
"When I was rounding first you know I'm not used to those going out to dead center so when I saw it rolling, I just kept running and I saw Casey right next to me and I got shocked and stopped and coach Mac just kept waving and I treated it like an inside-the-park homer," said Stephan.
I asked Stephan if he knew he had that type of power to hit a ball on a line about 400 feet.
"Not really. That's just not what I'm typically trying to do (hit with power). I'm more of just making contact, situational-type hitting, but I guess I can hit like that," replied Stephan.