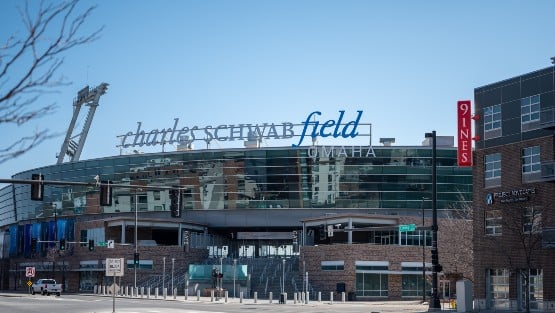 The 2023 College World Series is a collection of some of the best slugging teams and players in the nation. At first glance, a high-scoring, long-ball hitting tournament is inevitable. Charles Schwab Field has other ideas.
Five of the top 10 home run-slugging teams are gathered in Omaha, and so are individual national leaders Jac Caglianone of Florida and Wake Forest's Brock Wilken.
Pitchers may have a say as well. The CWS features four pitchers projected to have their names in the first round next month in the MLB Draft.
Virginia comes in with the fewest homers (82) in the field, but it leads the nation in doubles (169) and batting average (.335).
At Thursday's pre-CWS press conference, UVA coach Brian O'Connor said the expansive outfield could play to his team's strength.
"I think the key is to stay in the gaps. It really is," O'Connor said.
"Someone told me this morning, and I didn't realize it, that we were leading the nation in doubles. That's a pretty important stat, I believe, in this ballpark," added O'Connor.
O'Connor addressed the gathered media after Virginia had just completed a 50-minute practice where the team appeared confident and business-like.
For O'Conner, this is the sixth time guiding a Cavalier team to the College World Series.
Virginia entered 2023 postseason play as the No. 7 overall seed and is among eight teams still standing in Omaha.
"That's what it's all about," O'Connor said. "It's not about just being in Omaha. It's about the opportunity that they have in front of them and out in that stadium the next two weeks."
Virginia and Florida matchup
Virginia faces a tough task right out of the gate Friday at 7 p.m. in a matchup with No. 2 Florida. Virginia is unbeaten this season against non-ACC opponents, but obviously have not squared off against an opponent this season as talented as the Gators.
"Certainly, we've got a tremendous challenge in front of us," said O'Connor, now in his 20th season in Charlottesville. "I'm very aware of the pitcher from Florida tomorrow night and his talent. But that's a great opportunity for our guys to compete and show what they're made of."
Florida starts right-hander Brandon Sproat (8-3, 4.69 ERA) with a fastball routinely clocked at 100 mph.
UVA will hand the ball to right-hander Nick Parker (8-0, 3.81 ERA). Parker is a graduate transfer from Coastal Carolina.
Parker and Florida pitcher BT Riopelle were teammates at Coastal as freshmen.
"It's pretty neat after all these years we've run back into each other on this stage," Parker said Thursday.
Virginia last appeared in the CWS in 2021. While many current Cavalier players were not on that team, O'Connor said that on Monday in practice he stressed the importance and need to "stay in character and do what we do. Those are important things having success all year, and they become important here in Omaha."
There's history between Virginia and Florida in the CWS. En route to the national championship in 2015, UVA played Florida three times, winning two.
The Cavaliers departed for Omaha on Wednesday and visited the stadium later. O'Connor said, "we were the first team here, and hopefully the last team to leave."
O'Connor said he was confident in his club. "They're prepared. They're excited. I think one of the things that's really important to do when you get here to Omaha is to stay in character."
Playing within yourself is key according to O'Connor.
"I think a lot of individual players and teams can make a mistake to try to be a team they're not, and this is a very special team, very talented, and very gritty and tough. They've earned this opportunity. They'll be ready to play. I have no doubt about that," praised O'Connor.
Gators and Cavaliers have the power
Florida's offensive attack is led by Jac Caglianone, who smashed 31 homers this season. UVA counters with slugging third-baseman Jake Gelof, who had a program-record 23 home runs this season.
The key for the Cavaliers in Omaha, Gelof said Thursday, will be to "keep doing what we're doing. We've been having a great approach all year and just need to keep doing that in the postseason."
Offensively both teams are deep. While longballs power Florida baseball, Virginia uses a balanced attack. Led by Kyle Teel, the ACC Player of the Year, the 'Hoos are hitting .335 as a team. Teel, at .416, is one of six UVA starters hitting .330 or better.
Florida is a favorite for CWS finals, but Virginia stands in the way
Virginia will present an early tough test for Florida. A few slugging teams, which are the Gators, have struggled in recent CWS play due to the bigger dimensions at Charles Schwab Park. It's 335 feet down the left and right field line, 375 feet in the power alleys and 408 feet in dead center field. Think of Disharoon Park – only bigger.
When the winds blow in, which often happens, home runs are hard to come by. UF's 129 home runs ranks tied for fourth nationally, but the park is not homer-friendly, rather more double-hospitable, due to the deep alleys. Virginia hitters led the country in doubles hit.
This will be Florida's first trip to Omaha since 2018. None of the players on the roster have the experience of playing on college baseball's biggest stage. Across the field, the Virginia dugout has numerous players on the roster that were in the CWS just two seasons ago.
No one knows what will happen when adversity strikes in front of 20,000 plus fans. The Virginia dugout may have a slightly better idea.
The UVA-Florida College World Series matchup is scheduled for 7 p.m. ET Friday on ESPN.