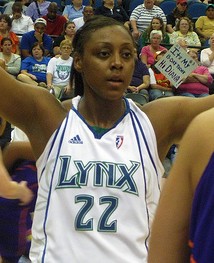 Former WNBA player and All-American Monica Wright has joined the Liberty women's basketball staff as an assistant, coach Carey Green announced today.
Wright comes to Liberty from Incarnate Word, where she served the Cardinals' women's basketball team as director of student-athlete development in 2017-18.
Wright replaces Erin Batth, who was recently hired as an assistant coach at NC State.
"We are excited to announce and welcome Monica Wright to our Liberty family," stated Green. "Her Christian character and outstanding resume make her a great fit for our program. Monica's enthusiasm and work ethic will provide excellent motivation for a higher level of success as we move into the ASUN era."
After being drafted second overall by the Minnesota Lynx in the 2010 WNBA Draft, Wright helped the Lynx win WNBA titles in 2011 and 2013. Wright, who also spent time with the Seattle Storm, served as secretary/treasurer for the WNBA Players Association during the 2015 season.
"I am honored to have this opportunity to be a part of Coach Carey Green's legendary program," Wright explained. "This program has set a standard for excellence, and I'm absolutely thrilled to be here. I feel this is a perfect fit for me, and everyone, from players to coaches to Liberty athletics staff, has been supportive.
"I already see that Liberty University is a special place, and I can't wait to not only be a part of the culture but impact it as well. I feel beyond blessed to be able to take this journey with Coach Green and his staff."
Wright owns experience with USA Basketball, helping Team USA win gold at the 2007 FIBA U19 World Championships. She was also part of the 2010 U.S. Women's Select Team.
Wright played collegiately at Virginia, where she earned Associated Press All-America honors as a sophomore, junior and senior (2008-10). During her senior season (2009-10), Wright was honored as ACC Player of the Year, ACC Defensive Player of the Year and WBCA National Defensive Player of the Year.
Virginia's all-time leading scorer (2,540 career points), Wright introduced herself to Liberty fans on Dec. 29, 2009 during the Marriott Cavalier Classic title game at John Paul Jones Arena. She finished with 19 points, six rebounds, five assists and a Lady Flames opponent-record 10 steals, earning tournament MVP honors.
Wright, who graduated from Virginia with a bachelor's degree in sociology in 2010, is a strong advocate of women's health. She served as an ambassador for womenshealth.gov and girlshealth.gov for several years. She has hosted basketball camps for children in her hometown of Woodbridge, Va. and the Queen Louise Orphanage in St. Croix, U.S. Virgin Islands. Wright is also affiliated with Samaritan's Feet, where she takes part in fundraising to donate shoes to less fortunate children in Zimbabwe.