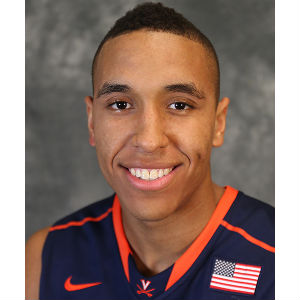 UVA alum Malcolm Brogdon was selected in the second round of the 2016 NBA Draft Thursday night, going with the 36th pick to the Milwaukee Bucks.
The 2016 ACC Player of the Year and a first-team All-American as a redshirt senior, Brogdon was also a three-time All-ACC first-team selection at Virginia, leading the Cavs to four NCAA Tournament appearances, two ACC regular-season titles, the 2014 ACC Tournament championship and two #1 NCAA Tournament seeds.
Brogdon, a 6'5" guard, was a two-time ACC Defensive Player of the Year at Virginia, and was the first player named the ACC Player of the Year and Defensive Player of the Year in the same season.
Brogdon averaged 18.2 points per game as a senior, shooting 45.7 percent from the field, 39.1 percent from three-point range and 89.7 percent from the free-throw line.
He also averaged 4.1 rebounds and 3.1 assists per game in 2015-2016.
The Bucks finished 33-49 in 2015-2016. Rising third-year Jason Kidd recently signed an extension through the 2020 season despite the step back following a playoff run in Kidd's first season.
With their first pick Thursday, at #10 in the first round, the Bucks drafted 7'1″ center Thon Maker. Milwaukee took another guard, UNLV sophomore Patrick McCaw, in the second round with the 38th pick, before trading McCaw to Golden State.
The Bucks 2015-2016 roster featured guards Khris Middleton (18.2 points/g, 4.2 assists/g), Michael Carter-Williams (11.5 points/g, 5.2 assists/g), Jerryd Bayless (10.4 points/g, 3.1 assists/g), O.J. Mayo (7.8 points/g, 2.9 assists/g) and Greivis Vasquez (5.7 points/g, 4.0 assists/g), forwards Giannis Antetokounmpo (16.9 points/g, 7.7 rebs/g) and Jabari Parker (14.1 points/g, 5.2 rebs/g), and center Greg Monroe (15.3 points/g, 8.8 rebs/g).
Brogdon's coach at UVA, Tony Bennett, is familiar with the Milwaukee area. The son of Wisconsin coaching legend Dick Bennett, Tony Bennett starred in college at Wisconsin-Green Bay before moving on to the NBA, and later served on his father's staff at the University of Wisconsin.