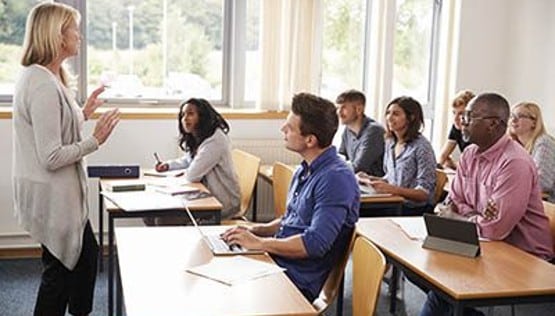 An award-winning journalist and author and a mental-health expert will serve as keynote speakers at Shenandoah University's 13th Business Symposium titled "Leadership in Challenging Times."
The symposium takes place on March 24, from 8 a.m. to 4 p.m. in Halpin-Harrison Hall on Shenandoah's main campus in Winchester.
The event is designed to educate and inspire business leaders from for-profit and nonprofit organizations. Students can also enhance their classroom experiences through direct exposure to the diverse community of business professionals and speakers at the heart of the symposium.
Long-term impacts of COVID and technology
Author Anya Kamenetz, a futurist with a passion for the complexities of how we learn, work and live in a rapidly changing world, is the morning keynote speaker and will speak from 9:30-10:45 a.m. Her message, "The Stolen Years: Where We Go From Here," explores the long-term implications of the COVID-19 pandemic on students, parents, employers and employees and how technology has changed the way people work and learn.
Kamenetz, an award-winning former correspondent for National Public Radio, is a three-time winner of national awards from the Education Writers Association, and her digital education coverage at NPR won a 2017 Edward R. Murrow award for innovation from the Radio Television Digital News Association.
It's time to talk about mental health
Johnny Crowder, founder and CEO of Cope Notes and an expert in resilience, well-being and mental health, is the afternoon keynote speaker and will speak from 1:30-2:55 p.m. His presentation is titled "Beyond Coping: A Candid Conversation About Resilience, Connection, and Happiness in the Workplace."
Crowder, a trauma survivor and Certified Recovery Peer Specialist, uses a positive, humorous and candid approach to show his audiences why discussing mental health is the key to coping, and why the most resilient organizational cultures prioritize and support mental health.
Breakout sessions
In addition to keynote topics, attendees can choose from an array of dynamic breakout sessions focused on current business issues and best practices. These sessions can help attendees put today's rapidly changing business climate in perspective and provide practical tools, tips and techniques to use right now.
Some breakout sessions at this year's symposium include:
Leading with Resilience Workshop
5 Keys to Building a Leadership Culture
Supporting Your Growth with Digital Marketing
Engaging Employees Through Clarity and Alignment
Emerging Best Practices in Employment Law
Networking opportunities are available throughout the day, and registration includes refreshments, a boxed lunch, a door prize raffle and happy hour.
Registration
The cost to attend the symposium is $115 per person for general admission.
Shenandoah University students, faculty and staff are admitted for free but online registration is required.
For more information about the Business Symposium, or to register, visit su.edu/symposium.