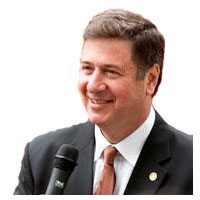 Republican Senate candidate George Allen received the endorsement of the U.S. Chamber of Commerce today.
The Tim Kaine Senate campaign, meanwhile, pointed out in a press statement that the Virginia Chamber of Commerce and the Fairfax County Chamber of Commerce are maintaining neutral stands in the Senate race.
"I'm honored to have earned the very meaningful endorsement of the U.S. Chamber of Commerce. As Susan and I have traveled throughout Virginia, we've listened to the concerns of hardworking small business owners worried about a government that taxes without listening and regulates without understanding," Allen said.
Allen formally received the endorsement at an event at Fairfax County's Pavilions of Turkey Run sponsored by J.R.'s Goodtimes Inc., a collaboration of small hospitality businesses owned by U.S. Chamber Board of Directors member Jim Wordsworth.
"As a small business owner, I know what it's like to make tough decisions, and I understand the devastating impact burdensome regulations can have on companies and their employees' livelihoods," said Wordsworth.  "As a Virginian, I've seen the difference in philosophy of what it takes to maintain a healthy economy – an 'Open for Business' mentality versus a 'Government is the Answer' approach. George Allen and his 'Open for Business' motto has it right. I'm proud to support George Allen as the candidate with a proven record of job creation as Governor and Senator."
In the U.S. Chamber's endorsement notification, President and CEO Tom Donohue writes, "We believe that George Allen's election to the U.S. Senate will help produce sustained economic growth, help create more jobs, and get our country back on track."
The Kaine campaign, for its part, noted a statement released today by Fairfax County Chamber of Commerce CEO Jim Corcoran on that organization's decision to remain neutral in the race.
"There are a lot of important federal elections this fall, and many issues impacting the business community in Northern Virginia are being debated by the candidates. As a longstanding policy, the Fairfax Chamber does not make endorsements for candidates in federal elections. The Northern Virginia business community looks forward to a healthy dialogue between candidates on issues critical to our region," Corcoran said.
The Kaine side also brought attention to a February press statement from the Virginia Chamber of Commerce.
"We encourage members of the Virginia business community to view each former Governor's remarks and attend the Chamber's candidate forums this Fall to inform themselves on issues facing Virginia businesses," said Barry DuVal, president and CEO of the Virginia Chamber, in the Feb. 16 statement. "As we all work together to maintain the Commonwealth's status as the best state in which to live, work and do business, it is more important than ever to remain focused on creating more jobs and opportunities for all Virginians."
Kaine for Virginia Communications Director Brandi Hoffine then pointed to a comment from Allen in reference to last year's debt-ceiling debate that the Chamber is out to "devastate" Virginia's economy as evidence of "political posturing" on the part of the candidate.
"The fact is both the U.S. Chamber and Tim Kaine endorsed a bipartisan compromise, negotiated by Virginia leader Eric Cantor and supported by Governor Bob McDonnell, to prevent default," Hoffine said. "George Allen may think it's appropriate to attack Tim Kaine for that position on a Tuesday and then buddy-up to the Chamber on a Wednesday, but Virginians expect more from their leaders than using national defense and Virginia jobs to score political points."