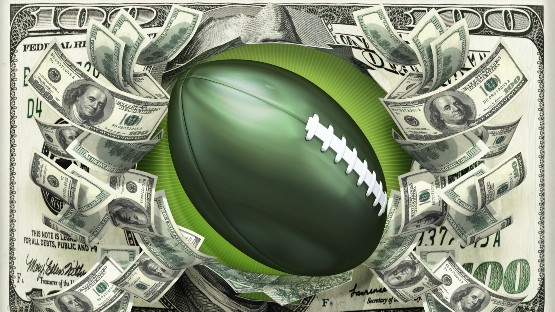 ACC Commissioner Jim Phillips, like a number of his peers among the adults in charge of running the college sports business, wants Congress to step in to keep the kids in line.
What a great place for the two most hated men in Congress to step up and do what the money people need to be done.
"Student-athletes should be able to take advantage of NIL promotional activities without impacting their ability to play collegiate sports. But we need to ensure the integrity of our higher education system, remain focused on education, and keep the playing field level. Our legislation with Sen. Manchin will set basic rules nationwide, protect our student-athletes, and keep NIL activities from ending college sports as we know it," Alabama Sen. Tommy Tuberville said in a statement on Tuesday.
Yes, that Tommy Tuberville, who directs his office to refer to him as Coach Tuberville in the press releases it sends out about him, to remind people that he was a moderately successful ball coach, and to try to make people look past how he defends White nationalists who want to serve in the military, and wants to punish women who want to serve in the military for being women, basically.
He's one of the saviors for the NCAA here, which, yeah, god forbid.
The other is Joe Manchin, the West Virginia supposed Democrat who has staked his political career on protecting the rights of his big-money benefactors to make even more money, and otherwise keeps the Senate from doing anything by threatening to filibuster whatever it is he doesn't like that day.
These are the two guys stepping in to do the bidding of the money people in the NCAA, through what they're calling the Pass Act, which most notably would establish a national standard for Name, Image and Likeness opportunities for student-athletes, including a uniform contract for athletes to use in NIL deals.
The legislation would also create a certification process for agents that work with college athletes, and require student-athletes to complete their first three years of academic eligibility before allowing them to transfer without penalty, subject to a few exceptions.
Sounds like this covers just about everything that you hear big-time coaches who make millions off college athletics whine about with respect to the kids they make that money off of and their ability to get pennies on the dollar for their efforts.
"As a former college athlete, I know how important sports are to gaining valuable life skills and opening doors of opportunity. However, in recent years, we have faced a rapidly evolving NIL landscape without guidelines to navigate it, which jeopardizes the health of the players and the educational mission of colleges and universities," Manchin said. "Our bipartisan legislation strikes a balance between protecting the rights of student-athletes and maintaining the integrity of college sports. I urge my colleagues on both sides of the aisle to consider this commonsense legislation as a way to level the playing field in college athletics."
The Pass Act would no doubt level the playing field between schools and their student-athletes – using the definition of level from Merriam-Webster, verb, transitive, 4(b), "to knock down."
Basically, the legislation would get things back, by and large, to where they were before the courts decided that student-athletes should be able to at least make endorsement money, and should have the same freedom of movement in what are essentially unpaid jobs that the rest of us have.
That's what Tuberville was referring to when he talked about wanting to "keep NIL activities from ending college sports as we know it."
The economics of college athletics doesn't work if the kids can make money.
Wait until the courts decide that the kids playing the games are employees and need to be paid, which is coming, and not too far down the road.
Phillips: '
But that's another story for another day. Back to where we are right now, Phillips, speaking to reporters at the 2023 ACC Football Kickoff on Tuesday in Charlotte, didn't specifically address the Pass Act, because that legislation was being rolled out in Washington by Sens. Tuberville and Manchin around the time that Phillips was on the podium in the swank Westin Charlotte hotel.
From what Phillips had to say about what the ACC and its peers in the NCAA want from Congress in terms of legislation to address the current NIL landscape, it seems that Tuberville and Manchin hit the right notes with their bill.
In his prepared remarks, Phillips said the focus of college sports administrators is to "develop guardrails to ensure that student-athletes have access to NIL opportunities untainted by inducements, as well as reliable information about legitimate NIL opportunities and value."
"The recent unprecedented transfers of student-athletes are tainted by inducements disguised as NIL money," said Phillips, who also called for an effort "to ensure that student-athletes have access to legitimate representation in the form of certified agents and are making decisions informed by facts, not empty promises made to recruit the athlete."
"Too many student-athletes enter the transfer portal based on rumor or bad advice, only to find they have no place to go. It's the ultimate game of musical chairs," Phillips said. "This is detrimental to their education and future and must stop. We can assist student-athletes by providing as much transparency as possible regarding NIL."
Later, in the Q&A with reporters, Phillips pointed to the "disproportionate state-by-state rules" on NIL as being the biggest challenge facing the NCAA.
"The current NIL legislation is so disproportionate about what you can do in one state versus another state. I think that's part of the frustration that our coaches are faced with," Phillips said. "Having something, some kind of federal legislation, that allows some opportunity for there to be consistency across competition. I say this, when you have inter- and intra-state competition, you want fairness in everybody playing with the same types of rules."
Phillips expounded on that line of thinking in response to another question.
"At the end of the day I think we have paralyzed the enforcement staff, not intentionally, but with state NIL laws, and they're not sure exactly the enforcement abilities that they have, et cetera. That's why some kind of consistent language across the country would allow our enforcement staff to me to be a lot more successful in doing the work that they need to do," Phillips said.
"So, I think that's part of the earlier question of the frustrations of the coaches, et cetera, that they have and our athletic directors and even chancellors, and it causes some disruption in your own league with our 10 states because they all look different, the laws do," Phillips said.
"I'm hopeful we can get there. I really do. I think we've made a ton of progress over the last two or three months, and a lot of us have almost lived in Washington, D.C., because of the frequency of meetings with both sides of the aisle. I am cautiously optimistic that we can get something done," Phillips said.
Of note, a reporter did ask Phillips about the doomsday scenario in which courts finally come down on the side of requiring schools to pay student-athletes, and how that would impact the bottom line.
The answer from the commish was … telling.
"You have to be ready for anything, Joe. You know that. This is a fluid, changing landscape. What a student-athlete and their experience is and being able to get support and monetize their name, image and likeness what that looked like 10 years ago versus today, we have to be ready for almost anything," Phillips said.
"The courts have been active all the way up to the Supreme Court, so it would be naive for us to think that, hey, we can just kind of do this thing ourselves without much interference.
"We'll have to continue to look at it. I know that that is not the desire of the ACC presidents at all, but you know, at some point it could be a reality," Phillips said.
The unsaid part there: if that happens, Joe, basically, we're f—ed.