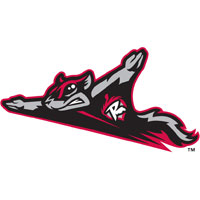 The trenton thunder (27-22) scored four runs over the final three innings to overtake the Richmond Flying Squirrels (23-23) and win, 4-2, in front of 9,384 at The Diamond on Saturday night.  Richmond drops to a .500 record for the first time since they were 4-4 on April 10.
The Squirrels grabbed their first lead of the series in the second inning against right-hander Jairo Heredia.  Mario Lisson led off and pushed a single through the right-side of the infield.  Angel Villalona followed and lined a low-flying two-run home run to left field.  His fourth of the year gave Richmond a 2-0 lead.
Richmond lefty Jack Snodgrass was magnificent for the first six innings of the ballgame.  He shut out the Thunder on just three hits to that point.  However, Trenton abruptly chased Snodgrass as they evened the ballgame in the seventh.  Gary Sanchez opened the inning with a double into the left-field alley.  An out later, Rob Refsnyder put runners on the corners with a single.  Dan Fiorito followed and plated Sanchez with an RBI single.  Snodgrass was lifted in favor of Phil McCormick. The lefty entered and walked Taylor Dugas.  Carmen Angelini then delivered the tying run with an infield-single.
Snodgrass didn't factor in the decision over 6 1/3 innings.  He surrendered two runs on six hits, walked none and struck out one.
Trenton plated the decisive runs in the top of the ninth inning off of righty Cody Hall.  Refsnyder led off and laced a triple into right-center field.  A batter later, Dugas knocked in Refsnyder for the lead with a fielder's choice bouncer to first base.  Ben Gamel doubled into the right-field corner to bring around Dugas for a 4-2 lead.  Hall (1-2) was saddled with the loss for the Squirrels.
Richmond never got the offense going against the Thunder bullpen.  Heredia turned in four total innings.  Cesar Cabral followed with two scoreless innings.  Right-hander Taylor Garrison (2-1) earned the win, taking the Thunder to within an out of victory in the ninth inning.  Lefty Fred Lewis secured that out – stranding the bases loaded – to earn the save.
Game three of the four-game series is scheduled for 1:35 p.m. at The Diamond on Sunday afternoon.  Richmond RHP Austin Fleet (3-1, 3.79) will make the start against Trenton RHP Bryan Mitchell (1-2, 3.28).  The Flying Squirrels Pregame Warmup begins at 1:05 p.m. on Sports Radio 910 and SportsRadio910.com.