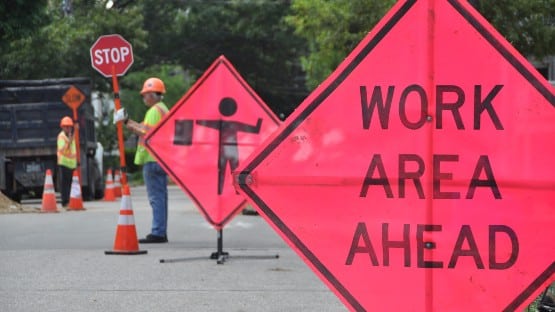 The Interstate 81 northbound left lane will close Tuesday, Sept. 19, 2023, from 8 p.m. to 7 a.m. in Warren County to prepare for widening of the Route 840 bridge over the interstate.
The Virginia Department of Transportation is scheduled to pour the concrete deck for the widening project, which requires contractors to stage equipment.
The I-81 northbound lane will be closed from mile marker 298 and 300, near the junction of I-81 and I-66. The area is congested and motorists are encouraged to use extra caution when traveling through the work zone. The section receiving the deck pour is separated from traffic by a concrete barrier.
Drivers should be alert for flagger traffic control on Route 840 in the area of the I-81 overpass bridge on the night of September 19.
The bridge widening is part of improvements to I-81 exit 300, which includes an extended on-ramp from I-66. Funded by Virginia's SMART SCALE program, the project is designed to reduce congestion and enhance safety. The Commonwealth Transportation Board awarded a $7,140,300 contract to Triton Construction Inc. of Virginia, in St. Albans, W.Va. in May 2022. The project is scheduled for completion in November 2024.
I-81 motorists should be alert for northbound and southbound shoulder closures throughout the project. The work zone speed limit on southbound I-81 is 55 miles per hour.
All work is weather permitting.