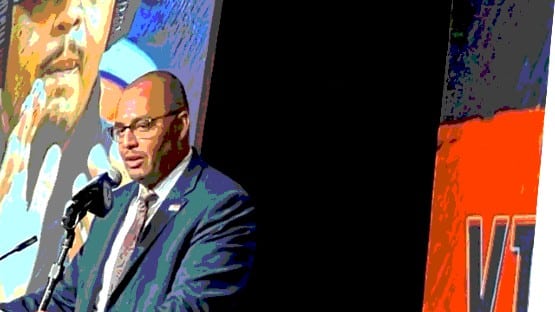 Somehow, the guy who gets paid $4 million-plus to know what's going on with the UVA football team didn't know what a lot of the rest of us did with his former backup QB, Jay Woolfolk.
"I wasn't anticipating it," Tony Elliott told reporters, point-blank, during a media scrum at the 2023 ACC Football Kickoff in Charlotte this week.
It was a reference to Woolfolk's announcement earlier this month that he is foregoing football going forward to focus on baseball, which isn't any kind of surprise to anybody who knows anything about baseball, and how good Woolfolk is at throwing one.
From the day that three-year starter Brennan Armstrong announced that he was entering the transfer portal, and that particular day was Dec. 1, 2022, it seemed incumbent on Elliott that he would need to try to lure a couple of quarterbacks off the portal to at least compete with Woolfolk, Armstrong's backup for the past two years, for the QB1 job, and to give the QB room some insurance if Woolfolk were to decide to pass on football given that he has long been a projected Day 1 or Day 2 pick in the 2024 MLB Draft.
How Elliott didn't see back in December that he might need to hedge his bet on Woolfolk by bringing two guys off the portal in to compete for the QB1 job strains credulity.
To be blunt: I'm astonished that he'd say what he said on this publicly.
It's just not a good look on him.
By way of offering a defense, Elliott said that he and Woolfolk talked once a week during the baseball season just to touch base, and I'll add to his defense something that he didn't tell us in Charlotte – that Woolfolk took part in spring practice, getting limited live action around work with QBs coach Taylor Lamb in the QB room, which would seem to indicate that Woolfolk was still hedging his bets about what he was going to do going forward.
One more defense from me here for Elliott: there were competing schools of thought behind the scenes all spring about what Woolfolk would do with respect to football.
I had a lengthy, shall we say, discussion, with one staffer who insisted that Woolfolk would be a full participant in the fall, even as I pushed back, with no knowledge directly into Woolfolk's thinking, just my assessment based on what the MLB Draft analysts were saying, that he would be putting too much with respect to his baseball career at risk by continuing with football.
Based on the pushback that I got back in the spring, and now Elliott telling us this week that he "wasn't anticipating" what Woolfolk ultimately decided, I have to presume that the football guys allowed themselves to be blinded by their wishful thinking that Woolfolk would be a full go.
Allowing that wishful thinking to guide personnel decisions has now left the football program in quite the untenable situation – with just one guy in the QB room, Tony Muskett, a transfer from Monmouth, a mid-tier FCS program, with any game experience at the college level.
"Just unfortunate with the timing, but you know, you can't hold that against anybody. That's nobody's fault. It's just the nature of the situation that we're in," Elliott said. "For the flip side of the football team, it's tough, because there's not guys out there that you can go and bring into the program, right, that will replace the competition that you lost with Jay departing, right, and the experience that he had this late in the game. So, we didn't want to go out and just you know, add somebody to the roster, right, especially with the chemistry and the progress that we've made, you know, from a cultural standpoint. Didn't want to put a young man in that situation and plus, there weren't there weren't many options."
Of course there aren't many options in July. Elliott had the winter and the spring to beef up his QB room, and ultimately decided to go with just Muskett, an FCS guy, and Woolfolk, whose future has always been clearly in baseball, to battle it out for the starting QB job.
But that is what it is. Notably, Elliott brought Muskett with him to the ACC Football Kickoff, which would make you think that Muskett is the presumptive starter at quarterback, but actually, no, Elliott isn't committing to Muskett, despite what should be obvious.
"No, didn't have much conversation, and really haven't said, Hey, the keys are yours, because there's still a young pup in there, too, that wants what you want, all of them want, and that's the opportunity to be the starter. So, there's going to be competition," Elliott said of his post-Woolfolk news interactions with Muskett, who, for the record, was taking questions from reporters as the presumptive QB1 on the other side of the room.
This could be, and I assume it to be, coach-speak – Elliott's version of Bronco Mendenhall's earned, not given.
It had better be, because, no offense to anybody in that QB room, but there's just not a lot there, to the point that Elliott gave Muskett and true freshman Anthony Colandrea the QB snaps in the spring game.
When I suggested back in the spring in my conversation with the staffer about Woolfolk that I saw a lot from Colandrea that I liked in the spring game, and that I thought the young guy could be a player in the QB1 battle in training camp, my out-loud thinking there was dismissed out of hand.
So, if it's not Colandrea, it's, who?
There's Delaney Crawford, a holdover from the Robert Anae era, a perfect fit for Anae's Air Raid, dynamic athlete, but still trying to fit into Elliott's pro-style scheme.
Or maybe Grady Brosterhous, a preferred walk-on whose other options coming out of high school involved mid-tier FCS programs – so, basically, Muskett without the three years of game experience at the FCS level.
The other option is fifth-year Jared Rayman, who hasn't seen the field since high school, which probably tells you what you need to know.