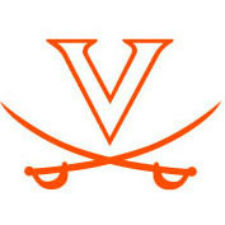 The UVa. men's tennis team had three individuals selected to compete in the 2014 NCAA Singles Championship, to be held May 21-26 at the Dan Magill Tennis Center on the campus of the University of Georgia. Alex Domijan (Wesley Chapel, Fla.), Mitchell Frank (Annandale, Va.) and Ryan Shane (Falls Church, Va.) were selected to the 64-player field.
The Cavaliers have two of the top eight seeds in the singles championship for the fourth consecutive year. It is the seventh consecutive year that Virginia has had at least three selections to the tournament.
Frank is the No. 4 seed and is making his third consecutive appearance in the tournament. He has posted a 17-3 singles record this year, highlighted by winning the ITA All-American Championships in October. Frank reached the NCAA quarterfinals in 2012 and the second round of the tournament last year.
Domijan is the No. 6 seed and becomes the fourth player in school history to make four NCAA Singles Championship appearances, joining Brian Vahaly (1998-2001), Somdev Devvarman (2005-08) and Jarmere Jenkins (2010-13). This spring he is 24-1 in singles after missing the fall season due to injury. His best NCAA Singles Championship result came in 2012, when he reached the quarterfinals.
Shane was selected to compete in his first NCAA Singles Championship. He has posted a 24-6 record this season and has been ranked in the top 50 nationally all spring.
Virginia, the No. 4 seed in the NCAA Team Championship, opens play May 10-11 as it hosts first and second round action at the Snyder Tennis Center. The Cavaliers (23-2) meet Army in the first round on May 10 at 12 p.m., with penn state and UNC Wilmington also competing in the Charlottesville Regional.