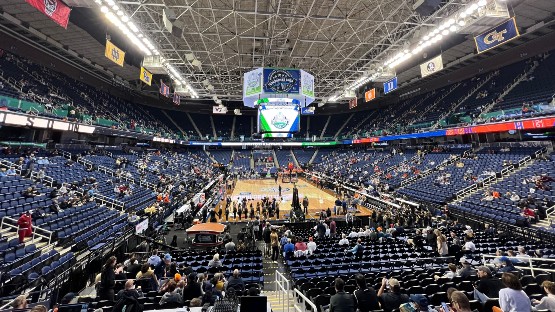 The ACC isn't falling behind; it's already fallen behind. One way to tell: no gifts for the media covering the ACC Tournament.
Yes, this is petty, but it's something.
Every year at check-in at the media table, there's been … something there for us.
I have a great ACC Tournament bookbag that I carry my computer in from 2019.
Another ACC Tournament briefcase from maybe 2014, not sure on the year.
The 2015 gift was a fleece, which came in handy, because for some reason, the Greensboro Coliseum was freezing cold all week that year.
This year: bupkis.
Not complaining, they're still feeding us between games, which is nice, since we're here all day, and it's not the box food (comes in a box, tastes like the box) that we've been getting at UVA games the past few years.
It's just, what we're seeing here – including the multiple emails a day about how there are tickets still available, which would have been unfathomable even just a couple of years ago – is a sign that there isn't as much oomph here as there was in years past.
There were still rooms to be had in the official ACC hotel as late as Sunday – the person on the phone from the hotel said demand for rooms was at an all-time low.
It's not a coincidence that we've got exactly three NCAA Tournament locks as we make our way into the ACC Tournament's second day.
As recently as four years ago, we had three #1 national seeds.
And if things go wrong today – things going wrong would be Pitt, UNC and NC State all losing – we might be stuck with just Miami, UVA and Duke going to the Big Dance.
We haven't had a team (Clemson) in the College Football Playoff either of the past two seasons.
Clemson and Florida State are banging the drum again about how they're finding it hard to compete in football with the paltry sums the ACC gets from its contract with ESPN, pitted up against the huge money ESPN is paying the SEC, and Fox is giving to the Big Ten.
Not that they're able to do anything about it. The ACC schools, for better or worse, almost certainly for worse, are stuck with each other through 2036 because of their agreement from back in 2016 to grant their media rights to the conference.
For all the talk about challenging the grants in court, that's a non-starter, as is the idea that the likes of Clemson, FSU, North Carolina and Virginia could just buy their way out of their grants.
None of them have $500 million laying around doing nothing, is the reason why there.
Nope, we're in this together, this being what feels like a toilet that has been flushed, the water swirling around, leaving the bowl, slowly, until it's all gone, us going down with it.
The food here this week, at least, is … chef's kiss … really good.