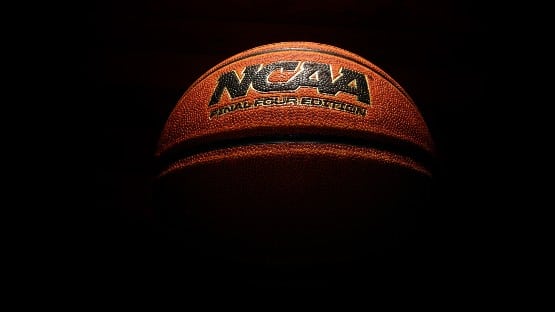 The Sweet 16 gets underway Thursday, as the four teams remaining in the East Region will battle it out at Madison Square Garden in New York City, while the West Region will be decided at T-Mobile Arena in Las Vegas.
Thursday's winners will then square off on Saturday for a spot in the Final Four in Houston next weekend.
Below is a breakdown of all four of the Thursday games, including how they got here, who's favored, and which players to keep an eye on.
East Region — No. 7 Michigan State (21-12) vs. No. 3 Kansas State (25-9), 6:30 p.m., TBS
The line: Michigan State by 2.
Final NET ranking: MSU 33; KSU 24.
Record vs. AP Top 25: MSU 5-4; KSU 7-5.
The Spartans were bounced by Ohio State in the opening round of the Big Ten Tournament, but then reeled off a pair of wins to get to the Big Apple, defeating No. 10 seed USC by 10 in the opening round before eliminating No. 2 seed and Big East champion Marquette, 69-60, on Sunday. It's the 21st trip to the Sweet 16 in school history (ninth-most in Division I).
Tom Izzo's team is the only one left out of the eight Big Ten squads that punched a ticket to the Big Dance. The Spartans' are led by the backcourt duo of Tyson Walker (14.8 ppg) and A.J. Hoggard (12.5 ppg, 5.9 apg), while senior forward Joey Hauser, younger brother of former Virginia forward Sam Hauser, averages 14.3 points and a team-best 7.1 rebounds per game.
The Wildcats, making their 18th Sweet 16 appearance, were sent home in the first round of the Big 12 Tournament against TCU, but are one of just two teams left in the field from the conference. K-State knocked off No. 14 Montana State and No. 6 Kentucky en route to the regional semifinal.
Jerome Tang's Wildcats are led by Florida transfer (and Norfolk native) Keyontae Johnson (17.5 ppg, 7.0 rpg, both team highs) and Markquis Nowell (17.1 ppg, team-high 7.8 apg, team-high 2.4 spg), both of whom were named Third-Team AP All-Americans. Nae'Qwan Tomlin, a 6-foot-10 junior forward, also produces 10.8 points and 5.8 rebounds per game for the Wildcats.
West Region — No. 8 Arkansas (22-13) vs. No. 4 Connecticut (27-8), 7:15 p.m., CBS
The line: UConn by 3.5.
Final NET ranking: Arkansas 21; UConn 8.
Record vs. AP Top 25: Arkansas 3-8; UConn 4-5.
The Razorbacks finished 8-10 in conference play and earned the 10-seed in the SEC Tournament, but still managed to earn a spot in the field of 68. The Hogs got past No. 9 Illinois, 73-63, before upsetting top-seeded Kansas, the defending national champion, 72-71 in the second round.
Eric Musselman's squad, which is in the Sweet 16 for the 14th time, boasts five players who are averaging double figures, led by Wichita State transfer guard Ricky Council IV (16.1 ppg).
Freshmen Nick Smith Jr. and Anthony Black are each averaging 12.6 points per game,
while sophomore forward Trevon Brazile puts up 11.8 points and a team-best 6.0 rebounds per outing. Junior guard Davonte Davis poured in a game-high 25 points in the upset win over the Jayhawks.
After starting the season unranked, the Huskies climbed all the way up to No. 2 in the nation by the end of December before finishing fourth in the Big East. UConn, making its 17th Sweet 16 appearance, easily took care of Rick Pitino and No. 13 Iona in the first round, then bounced No. 5 Saint Mary's by 15. Dan Hurley is in his fifth season in Storrs and has led the Huskies to three-straight NCAA Tournament appearances.
Junior forward Adama Sanogo leads the team in both scoring (17.3 ppg) and rebounding (7.5 rpg), while sophomore guard Jordan Hawkins is right behind, pouring in 15.9 points a night. Senior guard Tristen Newton does a little of everything, averaging 10.1 points, 4.2 rebounds and 4.7 assists per contest.
East Region — No. 9 Florida Atlantic (33-3) vs. No. 4 Tennessee (25-10), 9 p.m., TBS
The line: Tennessee by 5.5.
Final NET ranking: FAU 13; UT 4.
Record vs. AP Top 25: FAU 1-0; UT 6-3.
There's a newcomer in this year's Sweet 16, as FAU head coach Dusty May produced the first two NCAA Tournament victories in program history last week. May's Owls hung on to beat No. 8 Memphis by a point, then survived and advanced against No. 16 Fairleigh Dickinson in the second round.
The Conference USA champs are led by Johnell Davis (13.9 ppg), Alijah Martin (13.1 ppg) and 7-foot-1 center Vladislav Goldin, who averages 10.4 points and 6.4 rebounds per game.
Rick Barnes' Volunteers are in the Sweet 16 for the ninth time, defeating No. 13 Louisiana in the first round before bouncing ACC Tournament champion Duke, 65-52, in Orlando over the weekend. One of three teams remaining out of the SEC, the Vols are paced by senior guard Santiago Vescovi, who scores a team-high 12.7 points per game.
Senior forward Olivier Nkamhoua averages 11.0 points and a team-best 5.0 rebounds, while sophomore guard Zakai Zeigler not only scores 10.7 points per game, but dishes out a team-high 5.4 assists and also leads the Vols in steals with 2.0 per game.
West Region — No. 3 Gonzaga (30-5) vs. No. 2 UCLA (31-5), 9:45 p.m., CBS
The line: UCLA by 2.
Final NET ranking: GU 6; UCLA 3.
Record vs. AP Top 25: GU 5-4; UCLA 3-4.
It'll be a rematch of the 2021 national semifinal in which Gonzaga held on to win in overtime, 93-90. The Bulldogs beat No. 14 Grand Canyon by a dozen, then rallied in Round Two to take care of TCU, the 6-seed in the West. Head coach Mark Few has led his teams to eight Sweet 16 appearances in a row (13 all time), but has still never won a national title.
Senior forward Drew Timme, who scored a team-high 25 in that Final Four thriller against the Bruins two years ago, leads the Zags with 21.1 points, 7.3 rebounds and 3.2 assists per game. Junior guard Julian Strawther adds 15.3 points and 6.1 rebounds a night, while senior forward Anton Watson puts up 11.3 points and 6.1 boards, and also leads the team in steals with 1.9 per game.
The Bruins cruised past No. 15 UNC Asheville, 86-53, and then defeated No. 7 Northwestern by five to get back to the Round of 16 for the sixth time in the last 10 seasons. It's the 36th Sweet 16 appearance for UCLA, which is second all time behind Kentucky's 44.
Mick Cronin's Bruins are led by senior guard Jaime Jaquez Jr. (17.5 ppg, 8.1 rpg), the Pac-12 Player of the Year. Like Timme, Jaquez was named a Second-Team AP All-American. Senior guard Tyger Campbell (13.4 ppg, 4.9 apg), freshman guard Amari Bailey (10.9 ppg) and the rest of the team will have to continue to step it up in the absence of junior guard Jaylen Clark, a defensive star who was lost for the season in the regular-season finale against Arizona.