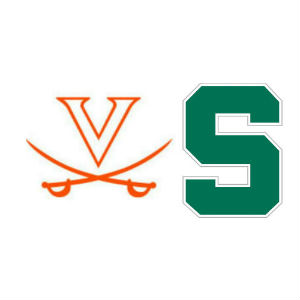 No. 1 seed UVa. (30-6) plays No. 4 seed Michigan State (28-8) in an NCAA East Regional semifinal on Friday, March 28 in New York. Tipoff at Madison Square Garden (18,200) is set for approximately 9:57 p.m.
Broadcast Information
The Virginia-Michigan State will be televised by TBS and online at NCAA.com. The game will be broadcast on the Virginia Sports Radio Network and Sirius (Channel 93) and XM (Channel 191) satellite radio stations. Live statistics and full media coverage are located on VirginiaSports.com, as well as the Virginia Sports app, which is available free of charge through iTunes. Fans can also follow the game via Twitter at @UVaMensHoops.
For Openers
• No. 1 seed Virginia plays No. 4 seed Michigan State (28-8) in the NCAA Tournament East Regional semifinal on Friday, March 28 at approximately 9:57 p.m. UVa advanced to the regional semifinal with a 78-60 win over Memphis, while Michigan State advanced with an 80-73 win over Harvard.
• Virginia seeks its first NCAA regional final appearance since 1994-95 when the Cavaliers lost to No. 2 seed Arkansas 68-61 in the Midwest Regional final in Kansas City, Mo.
• UVa is one win shy of breaking the school record for most victories in a season (30 in 1981-82 and 30 this season)
• The Cavaliers rank No. 1 nationally in scoring defense at 55.5 ppg.
A Win vs. Michigan State Would…
• Give Virginia 16 combined road/neutral wins for the first time since 18 in 1982-83.
• Give Virginia 76 wins over the last three seasons, its most in a three-year period since 80 wins from 1982-84.
• Give Virginia a 9-0 record at neutral sites.
• Give Virginia a six-game winning streak.
• End UVa's three-game losing streak vs. Michigan State and give the Cavaliers their first win against the Spartans.
All-Time in the NCAA Tournament
• Virginia is 24-17 all-time in 18 NCAA Tournament appearances.
• UVa is making its eighth NCAA regional semifinal appearance.
• UVa reached the NCAA Final Four in 1981 and 1984.
• UVa is 3-2 in its last five NCAA Tournament contests.
• Virginia is 1-2 all-time against Big Ten teams in the NCAA Tournament, defeating Indiana (50-48) in the regional finals in 1984 and losing to Michigan (102-65) in the regional finals in 1989 and Iowa (73-60) in the first round in 1997.
All-Time vs. Michigan State
• Virginia is 0-3 against Michigan State in the all-time series that dates back to 1946-47.
• All three UVa-MSU games have been played in East Lansing, Mich.
• UVa and MSU meet for the first time since Dec. 4, 2002 when Michigan State beat Virginia 82-75 during the ACC/Big Ten Challenge.
• MSU beat UVa 63-38 on Feb. 11, 1947 and 62-43 on Feb. 19, 1949.
Last Time vs. Michigan State
• The No. 22 Cavaliers suffered an 82-75 loss to No. 21 Michigan State on Dec. 4, 2002 in an ACC/Big Ten Challenge game in East Lansing.
• Todd Billet led Virginia with a game-high 28 points.
• Chris Hill led the Spartans with 22 points.
Last Time in the Sweet 16
• The fourth-seeded Cavaliers upset top-seeded Kansas 67-58 in the 1995 Midwest semifinal in Kansas City, Mo.
• Harold Deane led UVa with 22 points, while Junior Burrough and Curtis Staples each added 18 points.
• Virginia assistant coach Jason Williford had two points and nine rebounds.
• UVa strength and conditioning coach Mike Curtis was a freshman guard on the team.
• Current Orlando Magic head coach Jacque Vaughn had 13 points and seven assists to lead Kansas.
Last Time Out
• Virginia defeated Memphis 78-60 in the third round of the NCAA Tournament on Sunday at PNC Arena in Raleigh, N.C.
• Joe Harris had a game-high 16 points to lead five Cavaliers in double figures. Anthony Gill added 13 points, while Mike Tobey had 11 points and Justin Anderson and Malcolm Brogdon tallied 10 points apiece.
• UVa led 35-20 at the half and stretched its lead to 27 points late in the second half.
• The Cavaliers shot 55.6 percent (30-of-54) and limited Memphis to 40.7 percent (24-of-59).
• Virginia dominated the glass, outrebounding the Tigers 40-28.
Up Next
• The winner of the Virginia-Michigan State game plays the winner of No. 3 seed Iowa State (28-7) or No. 7 seed Connecticut (28-8) in the NCAA East Regional final on Sunday, March 30.