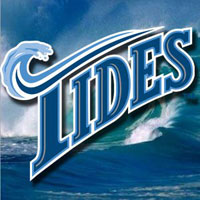 Brian Matusz was dominant Thursday afternoon at Harbor Park, and the Norfolk Tides offense broke open a pitcher's duel to defeat the Lehigh Valley IronPigs 7-0 in front of 5,076 fans.
Matusz (2-3, 3.46) went the distance to earn his second-straight victory in shutout fashion. The former first round draft selection allowed just five hits on the afternoon and rarely found himself in trouble on the afternoon.
One of the few instances came in the 4th inning when Carlos Rivero followed Cody Overbeck's one-out single with a double that gave the visitors runners at second and third in a scoreless contest. Matusz worked himself out of the jam by striking out the next two batters to end the threat. The left-hander tied a season-high with eight strikeouts on the afternoon.
Lehigh Valley starter Ryan Feierabend kept his team in the game, matching Matusz pitch for pitch through six innings, but the wheels came off in the 7th inning when the Tides offense finally busted through on the scoreboard with back-to-back doubles to leadoff the frame from Ryan Adams and Jake Fox. The Tides increased their lead later in the frame with three-straight two-out singles, the second of which ran Feierabend from the game.
Feierabend (9-8, 5.71) was charged with four runs on seven hits in 6.2 innings. He struck out five batters and walked one.
Phillippe Aumont wasn't effective in relief for the IronPigs. The Philadelphia farmhand was greeted with an RBI single by Carlos Rojas and then walked consecutive batters, the second of which plated the Tides fourth run of the inning.
Aumont trotted to the mound to start the 8th inning but wouldn't finish the frame after allowing consecutive singles to Fox and Brandon Snyder to lead off. Following a walk to Rhyne Hughes, Brendan Harris came through with a two-run single that broke the game open and finished Aumont's afternoon. He was credited with 0.2 innings pitched and allowed three runs (two earned) on four hits. He also walked three batters.
Matusz's complete game shutout was the Tides second of the season. Brad Bergesen threw the other on June 8 against Pawtucket.
The Tides will travel to Charlotte Friday for the start of a four-game series with the Knights. The Tides will return to Harbor Park on Tuesday, August 16 to face the same Charlotte club. RH Mitch Atkins (2-5, 5.20) will take on RH Joe Bisenius (4-1, 3.20) in the opener Friday night.