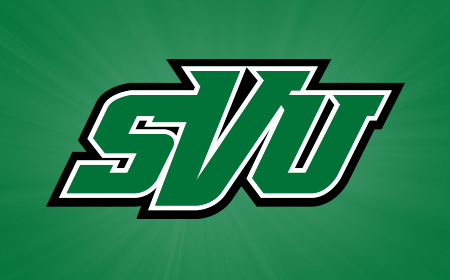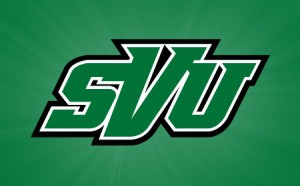 Down 33-7 at the half, a strong second-half showing by the Southern Virginia University football team came up short as the Knights dropped their 2014 season opener at Methodist, 36-21, Saturday afternoon at Monarch Stadium in Fayetteville, N.C.
Monarch quarterback Max Reber went 27-for-43 for the day for 329 yards through the air, connecting with receiver Anthony Radke for two touchdowns to lead Methodist to the win. Running back Noah Shuler also had a strong performance for the Monarchs, gaining a net of 86 yards on 22 carries and three touchdowns on the day.
"We played a solid second half and made adjustments at halftime," said Southern Virginia head coach Jason Walker. "They threw things at us in the first half we weren't expecting but I thought we were much cleaner in the second half. We had too many missed tackles – two of their long plays would have been avoided with better tackling but we let them sustain drives and convert third downs."
Southern Virginia quarterback Mitch Stevenson connected with receiver Kyler Harris for two touchdown completions, including a school-record 99-yard touchdown play early in the third quarter. Stevenson finished 14-for-38 for 263 yards for the afternoon with one interception, while Harris had five catches for 174 yards and two touchdowns.
Methodist clamped down on the Knight running backs during the game, allowing just 13 net yards on 21 carries. Jerry Washington led Southern Virginia's efforts on the ground with 22 net yards on 11 carries.
"We have a young offensive line and they got caught up in the speed of the game," Walker said. "We learned a lot from this experience and they now have one game under their belt to lean on and find ways to improve."
The Monarchs jumped out to a quick lead when Reber led them down the field and connected with Radke for a two-yard touchdown on a drive that took only1:39 to complete.
Two possessions later, Methodist extended the lead to 13-0 following an 18-yard pass from Reber to Radke. After a Southern Virginia three-and-out, the Monarchs moved down the field and advanced the lead to 20-0 following a two-yard Noah Shuler touchdown scamper with just over a minute left in the opening quarter.
The second quarter saw Shuler score on a 10-yard run to extend the Monarch lead to 26-0 with 14:36 remaining. On the ensuing Methodist possession, senior safety Matthew Gregory picked off Reber's pass to give the ball back to the Knights at their own 18-yard line.
Southern Virginia got a spark of life midway through the second quarter when senior Jerry Washington blocked and recovered a Methodist punt that scrambled into the endzone to give the Knights their first score of the afternoon and cut the lead to 26-7.
"Jerry made a great play and gave us some confidence," Walker said. "That play gave us some life and I'm proud that the guys kept battling and competing."
Methodist stifled the Knight momentum on their final possession of the half by a big punt return that gave them the ball far into the Southern Virginia side of the field. After advancing the ball inside the five-yard line, Shuler again punched it in from a short distance to give the Monarchs a 33-7 lead with only 35 seconds before halftime.
After forcing a Methodist punt, the Knights got another spark when prospects appeared bleak with the ball at their own one-yard line. Stevenson was being rushed out of the endzone but found Kyler Harris behind the Monarch secondary and was able to connect with a bomb over the outstretched arms of a Methodist defensive back. Harris hauled it in, kicked on the speed and outran the remaining secondary for a 99-yard touchdown score for Southern Virginia to cut Methodist's lead to 33-14.
Stevenson connected again with Harris with six minutes remaining in the game on a 58-yard strike to trim the Monarch lead to 33-21. Harris took advantage of a one-on-one situation and raced to the end zone for the score.
"Those two are living up their high school glory days and they're great additions for our team," Walker said.
Southern Virginia has a bye next Saturday, but continues action on Saturday, Sept. 20, in a neutral matchup with Guilford College at Salem Stadium in Salem, Virginia. Kickoff is slated for 7 p.m.