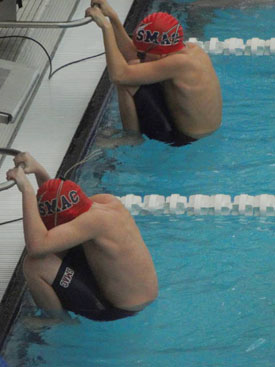 The Shenandoah Marlins Aquatic Club, which swims at the Waynesboro Y, sent swimmers to the Hoki Christmas Meet in Christiansburg Dec. 9-11.
Swimmers participating in the Hoki Christmas Meet were Alexis Brooks (15), Peyton Brooks (11), Chris Carmagnola (11), Lindsey Carter (15), Mackenzie Carter (12), Maya Chatterson (8), Nate Chatterson (6), Hailey Cook (10), Alice Elkins (8), Braelin Fauber (10), McKinna Fitgerald (12), Miles Fitzgerald (8), Margo Flanders (11), Alexander Flowers (13), Grace Hardiman (8), Colleen Higgins (13), Caleb Johnson (11), Ethan Johnson (9), Sarah Loomis (11), Justin Merritt (14), Jordan Miller (13), Cody Niles (16), Ella Pickering (10), Abby Prucha (6), Ben Prucha (8), John Prucha (7), Clara Riggan (9), Maggie Riggan (12), Charlotte Rumsey (11), Savannah Scarbrough (13), Hanna Shifflett (10), Tate Snyder (10), Robin Taylor (15), Madison Tegen (14), Logan Terrell (13), Elizabeth Terrell (13), Nick Wade (14), Evelyn Wade (9), Kaleb Wade (11), Kristen Wagner (9), Gannon Willcutts (14), Emma Woodworth (9), Ben Young (8), Libby Young (11) and Luke Young (9).
SMAC swam to an astounding 277 best times (over 70% of the swims were best times), 2 new AAA times, 13 new AA times, 17 new A times, 22 new BB times and 15 new B times. Time standards are set by USA Swimming to help gauge how the swimmers compete against all other swimmers in the country in their age group (AAAA is the fastest). Time standards also give swimmers new goals to accomplish as they try to achieve faster and faster time standards.
Individual highlights of the meet included: 4 new A times for Peyton Brooks, 2 new A times for Fauber, 1 new A time for Flowers, 3 new AA times for Higgins, 1 new A and 1 AAA time for Merritt, 2 new AA and 2 A times for Miller, 1 new A time for Riggan, 1 AAA, 2 AA and 2 A times for Rumsey, 1 new A time for Scarbrough, 1 new AA time for Snyder, and 1 new A time for Wagner. First place finishers included P. Brooks (50 fly), Miller (500 free), Merritt (100 fly), Rumsey (50 breast) and Willcutts (200 fly). Those finishing in the top three included: Brooks (2nd 100 fly and 100 back and 3rd 50 back and 200 fly), Fauber (2nd 50 back, 100 fly, 100 IM and 3rd 100 back, 50 fly, 200 IM), Higgins (2nd 200 breast), Miller (2nd 200 fly), Riggan (3rd 200 free and 100 Breast), Rumsey (2nd 50 back and 100 breast and 3rd 100 IM and 200 IM), Wagner (2nd 50 free, 100 free, 200 free, 100 back, 200 IM and 3rd 50 back, 100 fly and 100IM) and Willcutts (2nd 500 free, 3rd 100 fly and 400 IM). The youngest age group at the Meet was 10 and under and Maya Chatterson (8) swam great against the older competition and broke 4 SMAC Records for the girls 8 and under age group. Her new records were set in the 200 free, 100 back, 100 fly and 200 IM. This was an outstanding meet for all of these young swimmers. All are to be congratulated for their hard work in the pool and their competitiveness at the meet.
For more information regarding SMAC swimming contact Coach Norm Wright, Director of Competitive Swimming at the Waynesboro Y at 942-5107 or email him at [email protected].
More on the Y online at www.WaynesboroYMCA.com.