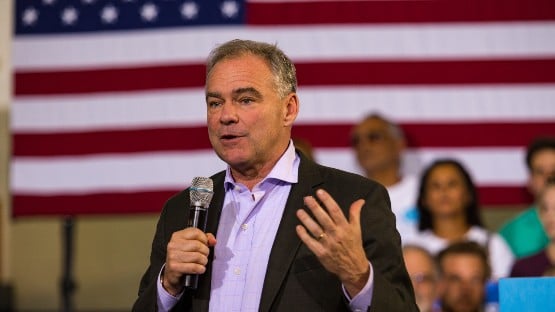 U.S. Sen. Tim Kaine will visit the Shenandoah Valley on Friday to receive an update, tour a wood manufacturer and discuss common ground.
In Front Royal, Kaine will visit the northern terminus of the Shenandoah Rail Trail in Front Royal and meet with local elected officials and project leaders to receive an update on the trail's progress. Kaine secured $3 million in federal funding in the Fiscal Year 2023 government funding bill for the Virginia Department of Transportation toward preliminary engineering for the rail trail to complete Phase 1 of the trail, which will run nearly 50 miles through Warren, Shenandoah and Rockingham counties between Front Royal and Broadway. Kaine has long supported outdoor recreation and development in the region. He introduced legislation to form a Shenandoah Mountain National Scenic Area in Rockingham, Augusta, and Highland counties, which would protect the scenic, historic, recreational and natural resources in specific areas, while allowing compatible uses such as outdoor recreation activities.
In Mt. Jackson, Kaine will visit Cabinetworks Group, which manufactures wooden components that are used to build kitchen cabinets. He will tour the manufacturing facility and discuss trade and issues facing the local workforce. Kaine has long advocated for Virginia's workers and job training programs. He introduced the JOBS Act, bipartisan legislation that will help more Americans get good-paying jobs by allowing students to use federal Pell Grants to afford high-quality, shorter-term job training programs for the first time. He has also introduced legislation that would support career and technical education (CTE) by ensuring that federal education data and research incorporates CTE to help improve states' career readiness programs, meet the needs of the economy, and expand the skilled workforce.
In Harrisonburg, he will participate in a fireside chat with JMU President Jonathan Alger to discuss finding common ground across partisan lines. The conversation will mark the inaugural event for the James Madison Center for Civic Engagement's "Common Good in the Commonwealth" series. Kaine will answer questions submitted by students and host a media availability following the discussion. Then, he will meet with Madison Democracy Fellows, Diplomacy Lab students, and other Fellows.