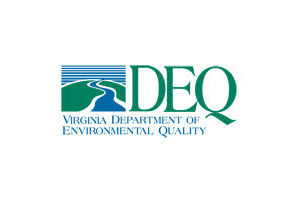 The Rivanna River, Meadow Creek, Moores Creek, Schenks Branch, and Lodge Creek have been identified by the Virginia Department of Environmental Quality as being impaired due to excessive levels of sediment and/or bacteria.
Other streams in Charlottesville face similar challenges, although they have not been officially assessed by DEQ.
The City of Charlottesville partners with the Rivanna Conservation Alliance, a volunteer-supported nonprofit that performs certified biological and bacteria monitoring of streams throughout the Rivanna River watershed, including at locations in and around Charlottesville. Biological monitoring measures a stream's ability to support aquatic life.
The results of recent and past RCA biological monitoring can be accessed here: www.rivannariver.org/long-term-monitoring-program.
Bacteria monitoring measures the amount of E. coli bacteria in streams. Bacteria levels are one indicator used to determine if water is safe for swimming and other water-based recreation. Elevated levels of bacteria indicate that there is a higher risk of illness from exposure to pathogenic organisms in the water. Bacteria levels naturally fluctuate but tend to be elevated following rain events.
Recent RCA monitoring has found persistently elevated bacteria levels in two Charlottesville streams, Pollocks Branch and Meade Creek. The City and RCA are working together to identify and address the sources of the elevated bacteria levels. Until further notice, the public is advised to avoid direct contact with these streams.
Signs notifying visitors to exercise caution have been posted along these streams in public areas. The results of recent and past RCA bacteria monitoring for Pollocks Branch, Meade Creek, and other Charlottesville streams can be accessed here: www.rivannariver.org/bacteria.
Pollocks Branch is a local waterway that flows underground in a pipe from the Downtown Mall area southward under the IX Art Park, where it resurfaces just south of Elliott Avenue. It then flows through the Charlottesville Redevelopment and Housing Authority's South First Street neighborhood, and continues through Jordan Park and into Moores Creek.
Meade Creek is a local waterway that begins below Garden Street and Walnut Street in the Belmont neighborhood. It then flows north in an underground pipe below the Norfolk Southern railroad tracks and East Market Street before resurfacing east of 12th Street NE and flowing down through Meade Park before entering the Rivanna River.
Even when bacteria levels are not elevated, it is always advisable to follow some practical guidelines when interacting with urban streams:
Do not come in contact with a stream during or soon after a rain event. Levels of pollutants in streams are higher at these times because they are carried into streams by rainwater via the stormwater drainage system. Muddy looking water is often an indicator of elevated pollutant levels.
Do not come in contact with a stream if you have any open cuts, wounds, or sores on your body.
Wash hands or use hand sanitizer after being in contact with a stream and especially before eating.
Do not ingest any stream water or sediment; avoid getting stream water in your eyes, ears, nose, or mouth.
Wear shoes to protect your feet.
Everyone in Charlottesville can play a part in helping to protect the health of our urban streams and the Rivanna River. Here are a few things you can do:
Educate yourself – check out the Charlottesville Area Stream Health website to learn about the Rivanna River watershed, the health of its streams, and ways you can help
Never dump anything in a storm drain – these drains go directly to our local waterways!
Pick up after your pet – pet waste can be a source of bacterial contamination in our streams
Employ environmentally friendly yard care practices – use native plants, reduce or eliminate the use of pesticides, apply fertilizer based on a soil test and at the proper time of year
Report suspected water pollution and pollution sources through the City's Pollution Prevention Hotline
For additional information on safely interacting with waterways, see the Virginia Department of Health's brochure, "Safely Enjoy Natural Waters."
For additional information on water quality, DEQ's role in assessing waterways, the process by which waterways are listed as impaired, and the resulting cleanup process, visit DEQ's website.