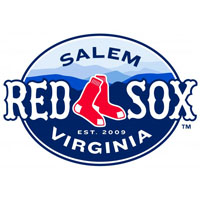 Matty Johnson led the way with four hits, including a two-run single in the seventh that transformed an 8-7 deficit into a 9-8 lead, an advantage the Salem Red Sox sustained to the finish line to win the game and the series against the Winston-Salem Dash.
Salem led 4-0 and then trailed 8-6, but capitalized on Winston's sloppy defense in the decisive inning. Third-baseman Nick Basto made errors on back-to-back ground balls with two outs, and Johnson, playing on his 26th birthday, made the Dash pay with his timely liner to right.
Salem's 9-8 victory was finalized by the fine mound work of Madison Younginer, who set down the final seven Dash hitters in the game. Overall, Younginer collected three strikeouts over there scoreless innings, earning the win out of the bullpen for the Red Sox.
After falling behind 4-0, the Dash quickly erased the gap with two runs in the third and two more in the fifth. But the Red Sox countered with two tallies in response in the bottom of the fifth, surging back ahead 6-4. Mario Martinez drilled an RBI double and Ryan Dent belted a sacrifice fly to reestablish the lead.
It would not last long, as the Dash delivered a four-spot in the top of the sixth, with Courtney Hawkins and Keon Barnum both connecting for RBI singles that gave Winston a two-run edge.
But the Sox laughed last. Despite Salem making four errors and allowing four unearned runs earlier in the game, Winston's two miscues on consecutive plays allowed the Red Sox one too many chances, and Johnson drilled the two-out, two-run hit off Zach Isler, who suffered the setback.
Salem improved to 6-1 to begin the 2014 season, and the Sox have now gone 28-4 in their last 32 games, dating back to last year.
The Red Sox remain at home through Monday, hosting the Myrtle Beach Pelicans for the next four games. On Friday night, the members of the 2013 carolina league champs that are still on Salem's roster will receive their championship rings in a pre game ceremony. Once the game begins, Justin Haley will make the start for the Sox opposite Chi Chi Gonzalez for the Pelicans.