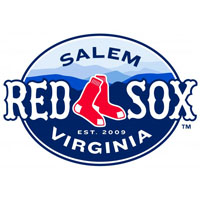 The Salem Red Sox scored all six of their runs in the second inning and cruised to a 6-3 victory over the Potomac Nationals on Friday night at Pfitzner Stadium, running their winning streak to four in a row.
Mario Martinez began the second with a single before Jeff Howell issued walks to Zach Kapstein and Deiner Lopez to load the bases. Howell then walked Jordan Betts, scoring Martinez for the first run of the game.
With two outs and the bases still loaded, Yoilan Cerse blasted a triple to right, clearing the bases. Wendell Rijo then cranked his second home run in as many days, a deep blast to left that made it 6-0 Red Sox.
Potomac pushed an unearned run across in the third inning. Rafael Bautista singled and Narciso Mesa followed with a bunt toward third. Betts fielded the ball and fired to first late, as the throw sailed past Martinez. Bautista sprinted around third as Franklin Guzman picked up the ball in right and snapped a throw home, where Betts was covering and applied the tag. Martinez advanced to third in the process and scored in the next at bat when Grant DeBruin bounced a grounder to second, making the score 6-1 Red Sox.
One more run crossed in the fourth beginning with a Drew Ward double. After a strikeout of Raudy Read by Trey Ball, Stephen Perez singled to center, scoring Ward. Ball struck out the next two batters he faced, ending the inning with the Red Sox leading 6-2.
Ball (9-13) was the winning pitcher after five innings in which he allowed two runs, one earned, on six hits. He walked two and struck out six in his final start of the year. Ball's 2015 ERA will finish at 4.73.
Potomac picked up one more run in the ninth, as Estarlin Martinez scored after Betts committed his second throwing error of the game on a grounder to third. Brandon Show got the final out, though, to earn his second save of the year. Show tossed four innings in relief of Ball, allowing an unearned run on four hits with one strikeout.
Rijo was 2-for-5 with a homer and two RBI, Cerse went 1-for-5 with the three-run triple and a run scored and Martinez was 2-for-5 with a run scored. Salem won for the fourth straight game and improved to 64-72 and 25-40 in the second half while Potomac dropped to 64-72 and 31-35.
The final series of the season continues Saturday at 6:35 p.m. with Ty Buttrey (8-9, 3.98) opposing the Nationals Tyler Mapes (5-3, 2.47). Fans can listen to the game on 1240 AM ESPN Roanoke, online at salemsox.com or via the TuneIn Radio app.