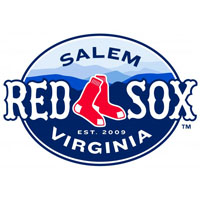 The Salem Red Sox beat the Carolina Mudcats 2-1 at LewisGale Field Thursday night. Ryan Dent smashed a Clayton Cook pitch off the left field wall in the bottom of the ninth to score pinch runner Jose Vinicio to give the Sox their fourth walk-off win of the season.
It was a pitchers duel all night, with both starters deserving of the win. Joe Gunkel made his LewisGale Field debut in style, throwing six shutout innings, allowing just four hits. Shawn Morimando was equally good for the Mudcats, allowing just a run and four hits in six innings of his own.
Matty Ott got the win out of the bullpen. Ott also was credited with a blown save, allowing an unearned run in three innings. Cook took the loss for Carolina, lasting just two third of an inning allowing the game winning run in the bottom of the ninth.
The Red Sox got on the board first in the fourth. Reed Gragnani led off the frame with a double off Morimando. Then after two quick outs, Kevin Heller drove in Gragnani with an RBI single to make it 1-0.
The game held 1-0 deep into the ninth. In the top of the eight, Ott allowed a single to Levon Washington with two outs. Then Ott threw wild to first on a pick off attempt, allowing Washington to get all the way to third. Then Washington scored on a wild pitch by Ott to tie the game at one on an unearned run.
In the Red Sox ninth, Gragnani and Jantzen Witte struck out to start the frame against Cook. Then Mario Martinez singled and Kevin Heller was hit by a pitch with a 3-2 count to set up first and second and two outs. After Vinicio came in to pinch run, Dent knocked one off the wall to get the win.
After a 1-5 start to the half, Salem has a chance for the series sweep over Carolina tomorrow night. Cody Kukuk gets the ball for the Sox with Ryan Merritt going for the Mudcats. First pitch is at 7:05.