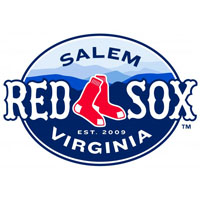 The Salem Red Sox beat the Lynchburg Hillcats 6-0 at LewisGale Field Thursday night. Salem scored in the first inning for the fourth consecutive game, but picked up its first win during that stretch.
Luis Diaz was again masterful for a second straight start, both against Lynchburg. Diaz threw six shutout innings en route to his sixth win of the season. He surrendered seven hits and two walks, while striking out five. Cody Scarpetta got the loss in his first Carolina League start of the year, going five innings, allowing six hits an three runs, walking three and picking up three strikeouts.
The Sox got their first inning run after Matty Johnson led off with a single, stole second, and reached third on a bunt single by Mike Miller. Then Carson Blair picked up the RBI on a single to left field, giving the Sox a 1-0 lead.
At this point ominous clouds rolled in over LewisGale Field, but the rain held off for the most part and the Sox and Cats completed the entire game.
Salem got two more runs home in the third. Miller led off with a walk, reached second on a wild pitch by Scarpetta and scored on a double by Blair. Two batters later, Kevin Heller would double in Blair to give Salem a 3-0 lead.
The score would hold 3-0 until the sixth. Aneury Tavarez led off against new pitcher Navery Moore with a ground ball that was booted by Levi Hyams at second to allow Tavarez to reach. Tim Roberson executed a hit in run perfectly giving the Sox first and third with no one out. Johnson would single two batters later to score Tavarez and give the Sox a 4-0 lead.
Salem would break the game open in the bottom of the eight. Tavarez led off the frame with his second home run in as many games to make it 5-0. Then a Roberson double and Dent single set up first and third, and Johnson grounded into a fielders choice to get home a sixth run.
Dayan Diaz struck out the side in the ninth to preserve the 6-0 win.
Salem and Lynchburg play game two of this four game set tomorrow night at LewisGale Field. Pat Light gets the ball for the Sox with Lucas Sims going for the Hillcats.