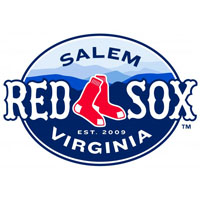 For a second straight night, rain cut the Salem Red Sox and Frederick Keys game short, this time a 6-2 Sox win stopped just before the start of the bottom of the eight inning.
Cody Kukuk was outstanding in a much needed bounce back start. He lasted five innings, allowing a lone earned run and just two hits. Kukuk walked three and struck out six. Parker Bridwell picked up the loss, going four innings, allowing eight hits and six runs, walking three and striking out six.
The Sox jumped on Bridwell early. Matty Johnson led off the bottom of the first with his second home run of the season to jump up 1-0. Then a single by Mike Miller, followed by back to back walks to Jantzen Witte and Carson Blair loaded the bases, still with no outs. Kevin Heller drove home two runs with a double to give the Sox a 3-0 lead. Then Mario Martinez's groundout to first got home Blair to give the Sox a 4-0 lead after one.
In the fourth, the Sox struck again. With one out, Matty Johnson and Mike Miller singled back to back to put runners on first and second. Then Witte singled in Johnson to give the Sox a 5-0 lead. Miller moved up to third on a groundout by Blair, and scored on a wild pitch by Bridwell to make it 6-0 Salem.
Frederick would scratch an unearned run across in the bottom of the fourth. Mike Yastrzemski walked to lead off the frame, and stole second. He scored two batters later on a grounder to short by Jason Esposito. A wild throw by Jose Vinicio from short allowed Yastrzemski to score from third to give the Keys their first run.
Frederick would add a second run off William Cuevas in the seventh. Brenden Webb led off with a double, moved to third on a groundout, and scored on a sacrifice fly by Wynston Sawyer to cut the score to 6-2.
After the top of the eight, the rains came pouring down and the tarp came on the field. The game was called after a 23 minute delay.
The Sox go for the series win tomorrow with Justin Haley on the mound. Dylan Bundy is expected to go for Frederick. Game time is scheduled for 6:00 with rain once again in the forecast.