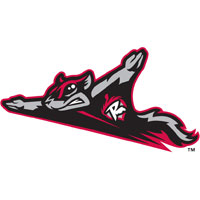 Ryder Jones celebrated his 22nd birthday with a solo home run in the Flying Squirrels (21-37) 5-3 win over New Hampshire (26-31) on Tuesday night.
Jones connected on his sixth home run of the season, a line drive shot over the right field wall to tie the game in the third inning. Hunter Cole put the Squirrel ahead with a solo shot of his own and Dan Slania picked up the win with five innings pitched. Squirrels closerTyler Rogers shut the door with a scoreless ninth inning to pick up his seventh save in as many opportunities.
TheFisher Cats struck first in the series with a run off starting pitcher Dan Slania in the first inning. Slania walked the speedy Roemon Fields and relinquished a base hit to Melky Mesa. Fields was thrown out on the play attempting to go from first base to third base and Mesa moved to second on the play. Two batters latter the vetern catcher Ryan Lavarnway delivered a base hit to score Mesa and take a 1-0 lead. It was the only run that Slania would allow in the outing.
Richmond returned fire in the top of the third inning against Fisher Cats hurler Shane Dawson. Ryder Jones tied the game with his sixth home run of the season and Hunter Cole added a solo blast with two outs to push Richmond ahead 2-1.
TheSquirrels added a pair of runs in the fourth to force Dawson from the game.Steve Lerud led off the inning with a hit by pitch and Ali Castillo followed with a double to put runners on second and third. Myles Schroder then made it 3-0 with a base hit to right field and Christian Arroyo added a sacrifice fly for a 4-0 advantage. Dawson sputtered and was removed in the fourth with a runner on base. The lefty was the losing pitcher and allowed four runs on six hits. He hit two batters and walked three in the outing.
Slania (4-4) took the Squirrels through five innings to earn his fourth win of theyear. Slania worked around six hits and struck out five in his third start of the season. Christian Jones replaced Slania in the sixth and yielded a two-run homer to Ryan Lavarnway for a 4-3 contest.
From there, the Squirrels relief corps of Jake Smith, Phil McCormick, Chase Johnson and Tyler Rogers navigated the game to the end. Richmond added an insurance run in the eighth inning with a pair of hits from Ali Castillo and Myles Schroder. Rogers closed the door to earn his seventh save in as many opportunities.