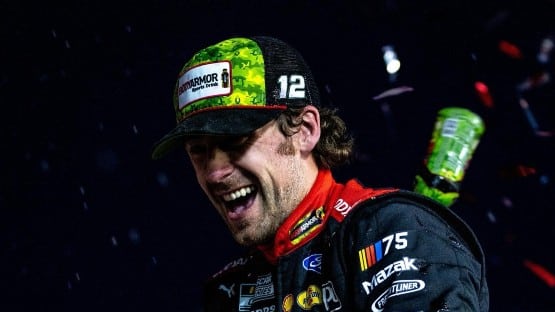 The expression on Ryan Blaney's face at the start/finish line was indeed priceless. The smile of winning his first Coca-Cola 600, breaking a 59-race winless streak, and then, fighting back the tears as Blaney thanked the crowd for their support but that there had been times that it seemed as though he had reached the point where he wondered if he would ever win again.
"You start to feel like you can't win anymore," replied an emotional Blaney speaking with FOX Sports after the race. "It kind of gets hard."
There were races Blaney could have won, only to have something go wrong, getting collected in a wreck or bad luck descending on the Penske Ford race team, snatching a win from Blaney's hands.  He struggled to make it to the playoffs in 2022, finally qualifying for the NASCAR Playoffs on points only to fade early in the opening stretch.
Charlotte has a way of changing things, for either the bad or in this case, the good.
"Our car was so good, I just tried to bide my time a little bit," commented Blaney following the race. "I was able to drive off and hoped there wouldn't be another caution. I knew we had the car to do it, it's just that restarts can get a little crazy. "
The 29-year-old driver collected his first Memorial Day Weekend win in the Coca-Cola 600 at Charlotte Motor Speedway as Blaney piloted the No. 12 Ford to Victory Lane after leading a career-high 163 laps in a race that was postponed from Sunday due to inclement weather.
A restart with 19 laps to go in the Coca-Cola 600 saw Blaney poised to the outside of Hendrick driver William Byron on the front row. Blaney timed the restart perfectly with a push from Joe Gibbs Racing driver Martin Truex Jr. and never looked back, except to see Byron further behind him in the closing laps.
Completing the top five behind Blaney were Byron, Truex, Bubba Wallace and Tyler Reddick. Kyle Busch, Ricky Stenhouse Jr., Chris Buescher, Austin Dillon and Zane Smith rounded out the top 10.
A restart at Lap 375 saw Kyle Larson spin from fourth place in Turn 2 to bring out the 16th caution of the day. His No. 5 Chevrolet snapped loose, contacting Christopher Bell and collecting Joey Logano and Ty Gibbs. Bell had led 48 laps – third-most – Monday.
At Lap 185, Denny Hamlin slid high at the exit of Turn 4 and pinched Chase Elliott into the outside wall. Elliott then contacted Hamlin's right-rear quarter panel, sending Hamlin's No. 11 Toyota nose-first into the outside SAFER barrier.
"Right rear hooks are absolutely unacceptable. I don't care," replied Hamlin after exiting the infield care center. "Exact same thing Bubba Wallace did to Kyle Larson. He shouldn't be racing. It's a tantrum."
While Hamlin was assessing blame and sentence, Elliott deflected most of Hamlin's shots of criticism, denying that he intentionally crashed Hamlin but also expressed his displeasure with their on-track interactions.
"The 11 ran us up in the fence there, and once you tear the right sides off these things, it's kind of over," Elliott said after his release from the care center. When asked specifically whether he retaliated against Hamlin, who won last year's Coca-Cola 600, Elliott attributed the contact as a result of the damage to his No. 9 Chevrolet.
"Once you hit the wall in these things, you can't drive them anymore," Elliott said. "So unfortunately not, no, just an unfortunate circumstance."
NASCAR said that they would begin investigating the incident this week and render a decision in the matter.
Monday's race also featured aggressive driving between Ricky Stenhouse, Jr. and Kyle Busch as the two Chevrolet teams beat and banged on each other down to the closing laps of the 600.
Weather postponed Sunday's race until Memorial Day.  The 400-lap race, the longest on the NASCAR Cup Series circuit, was red-flagged at Lap 159 for additional rainfall.
During that delay, Bubba Wallace and Aric Almirola had a discussion that briefly turned physical when Almirola shoved Wallace. The two were separated with no further incidents.
The Cup Series heads to St. Louis this weekend for the "Enjoy Illinois 300" at Worldwide Technology Raceway.