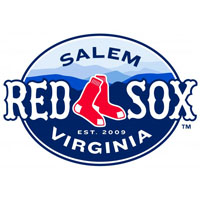 Glenn Sparkman was dominant for the Wilmington Blue Rocks, throwing six scoreless innings, helping the Blue Rocks to a 2-0 win over the Salem Red Sox at Frawley Stadium Friday night. Sparkman out dueled tough luck loser Corey Littrell, who allowed just an unearned run and five hits in five innings of work.
The teams matched zeros until the fifth. Littrell walked Jarred Shlahuber to lead off the frame. Then Littrell committed a throwing error on a sacrifice bunt attempt by Terrance Gore. His throw glanced off the glove of Jantzen Witte at first to set up first and second and no outs. Jack Lopez then bunted back to the mound, with Littrell getting the out at third. After an infield fly, Bubba Starling singled in Gore from second to give the Rocks the opening run of the game.
Wilmington scored their lone other run off Matty Ott in the sixth. Michael Antonio led off with a double, and moved to third on a balk by Ott. He would score on a sacrifice fly by Ramon Torres to right field to give the Blue Rocks a 2-0 lead. That was it for the scoring.
Sparkman, Yender Caramo, Kyle Bartsch, and Mark Peterson combined to allow just for Salem hits all night. Sox catcher Jordan Weems went 3-3 in the game, amassing 75% of the teams hits.
The Sox loss drops Salem to a season low watermark of six games under .500 for a second time this year. Salem and Wilmington play game two of the series tomorrow night at 7:05. Joe Gunkel goes for the Sox with Jonathan Dziedzic on the mound for the Blue Rocks.