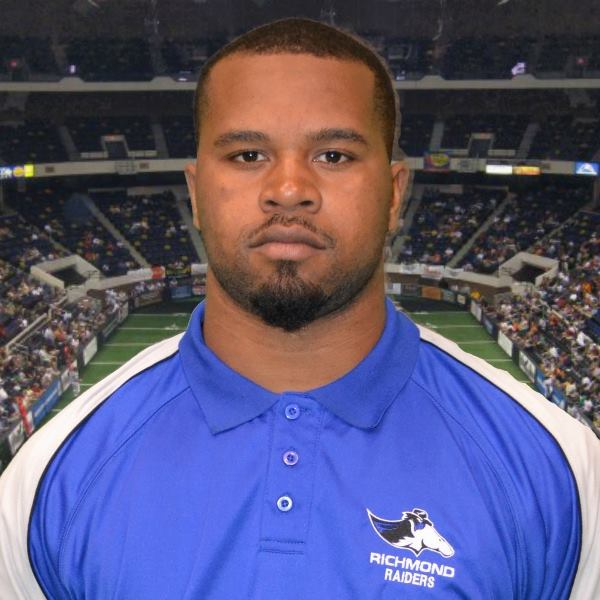 Richmond Raiders defensive lineman Devin Jones (Mississippi State) is the 2014 Professional Indoor Football League Defensive Rookie of the Year, the league announced today. Jones led the league in sacks and was second in tackles for loss and anchored a Raiders' front four that allowed a league-low 223 yards per game.
Already named to the all-league first team, Jones becomes the first Raider to win rookie of the year, as voted on by coaches and front office staffs of all eight league teams as well as league officials.
Jones came out of the gate strong, registering two tackles for loss in his first indoor football game. He collected 5.5 sacks over the next three games, and went on to record a season high 3.5 against Georgia on June 1. Despite missing the last two games of the season with an injury, Jones set the PIFL single season record with 12.5 sacks.
Some of Jones' biggest plays coincided with the Raiders' four game winning streak in the second half of the season. In the June 6 game against Lehigh Valley, he forced an intentional grounding penalty that resulted in a safety. When the Raiders needed stops in the fourth quarter to assemble their comeback, Jones came through with a sack on third and five that forced a long field goal attempt which got returned to set up a Raiders touchdown.
Jones' impact extended beyond the stat sheet. Head coach James Fuller consistently credited him for getting into the offensive backfield and forcing the action toward a teammate when not getting a sack himself. His presence helped the Raiders lead the league in sacks and tackles for loss.
The Raiders will return to the Richmond Coliseum for their sixth season in the spring of 2015. Schedule and season ticket information will be announced in the near future. Check www.RichmondRaidersProFootball.com for updates and more information on the team's offseason appearances and activities.