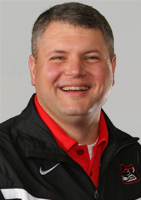 The Richmond Flying Squirrels, Double-A affiliate of the World Champion San Francisco Giants, announced that General Manager Bill Papierniak is leaving his position with the team after five successful seasons.
Papierniak will be staying in Richmond as he transitions into a local business owner, having purchased the Cartridge World franchise in Innsbrook. Bill, the only GM in franchise history, spent a total of 17 seasons in Minor League Baseball and will bring his signature leadership and business skills into his new venture. The Flying Squirrels are grateful for his years of dedication in building one of the best franchises in the country and look forward to seeing him in the stands as a fan on Opening Night April, 9th.  Current COO & VP Todd "Parney" Parnell will take on the title of General Manager going forward.
"This is a bittersweet moment for me," said Papierniak. "This is an opportunity for me spend more time with my family while building towards our future. There is no question I will miss heading to the park every day. I am proud of what we have been able to accomplish and will look forward to seeing what FUNN times are ahead."
"Bill has been a driving force behind this franchise since day one," said Flying Squirrels COO &VP/GM Todd "Parney" Parnell. "As we transition into a new era, he will be missed and we wish him and his family all the best in their new endeavor. We thank him for his years of hard work and dedication and his mark will always be on this franchise."
"While we will certainly miss Bill and his dedication to the team, our entire staff is looking forward to carrying out another successful season in 2015 and beyond," stated Squirrels Chief Executive Chuck Domino. "This is one of the most talented teams of industry professionals and I am confident of what we will be able to accomplish moving forward."
The Flying Squirrels 2015 season begins on Thursday, April 9th. Single-Game tickets go on sale at The Diamond during the Flying Squirrels First Friday Fan Fest on March 6th from 5:30PM-8:00PM. Online, phone orders along with box office sales will open to the public the next morning, Saturday March 7th at 9:00AM.  The first 100 fans at Fan Fest on March 6thto purchase tickets to the 2015 season will receive a free Squirrels shirt. Music will be provided by Center Stage Band and Happy Hour drink specials will be available from 5:30PM-7:30PM.
PAPIERNIAK BIO: Bill Papierniak spent 17 seasons in professional baseball and served as the General Manager of the Richmond Flying Squirrels from 2010-2015.  His leadership helped the Flying Squirrels build the franchise in a little more than seven months, culminating in minor league merchandising records, an Eastern League attendance title and multiple community impact awards.  He steered the franchise back to the Eastern League's second overall attendance crown in 2012 and their second average attendance title in 2013.  Papierniak came to Richmond from the Daytona Cubs (Chicago Cubs – Florida State League), where he spent six seasons as General Manager.
Bill represents the Flying Squirrels on Minor League Baseball's licensing committee, helping to shape the overall direction of the organization.
Bill was tabbed as the "Executive of the Year" by the Florida State League following the 2006 season. Under his watchful eye, the Daytona Cubs franchise was recognized for a ground-breaking 2006 season and continued contribution to Minor League Baseball by being named the winner of Baseball America's 2006 Bob Freitas "Organization of the Year" Award for the Single-A level.
Over his six seasons with the Daytona Cubs, Papierniak helped the Cubs set attendance records at Jackie Robinson Park in five consecutive seasons.  The team also shattered sponsorship and corporate sales records, becoming an award-winner and one of the most respected in Minor League Baseball.
Prior to joining the Cubs, the Northern Virginia native was a member of the Hagerstown Suns in the South Atlantic League for two seasons, ascending to the role of Assistant General Manager. During his tenure, the Suns were tabbed by ESPN in 2002 and 2003 with a "Veeckie" for top promotions in Minor League Baseball. For his efforts, Papierniak was named the 2002 South Atlantic League "Sales Executive of the Year."
Bill spent the first four seasons of his minor league baseball career with the Carolina League's Lynchburg Hillcats as the club's Director of Group Sales and Promotions.
Papierniak graduated from James Madison University with a B.B.A in management. He and his wife Michelle live in Midlothian along with their son Trae (11) and two daughters Ainsley (8) and  Adalyn (4).
Season tickets, mini plans and group packages are currently available for the 2015 season by contacting the box office at (804) 359-3866 or online at www.squirrelsbaseball.com.