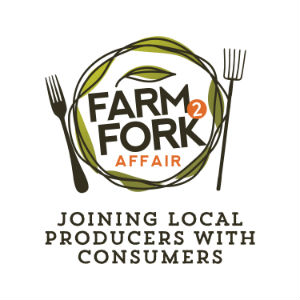 The Farm2Fork Affair, held on Tuesday, highlighted Staunton, Augusta County and Waynesboro agricultural producers in an effort to market to large-scale consumers throughout Virginia.  Set up as a trade expo and held at Hermitage Hill Farm & Stables, the Farm2Fork Affair featured twenty-two regional agricultural producers and offered producers an opportunity to market to over 140 consumers.  Consumers ranged from restaurants to universities to distributors and hotels.
The local food expo was organized by Greater Augusta Regional Tourism (GART) in conjunction with the Staunton Creative Community Fund (SCCF) and Fields of Gold.
"We are thrilled to be hosting the Farm2Fork local food expo as it offers an opportunity for our farmers to connect with restauranteurs, caterers, school nutrition programmers, bed & breakfast owners, and food distributors," said Sheryl Wagner, GART Chair and Director of Tourism for Staunton.  "The interest the event has garnered from our local food buyers as well as those from northern Virginia, Richmond, Roanoke, Charlottesville and Harrisonburg has been amazing."
"As the second-largest agriculture producing county in Virginia, Augusta County has a proud agricultural history.  Farm2Fork is a perfect opportunity to help our producers make connections," said Rebekah Castle, member of the GART Board and Economic Development and Tourism Marketing Assistant for Augusta County.  "These producers provide amazing products from heritage pork to aged cheese to vegetables to craft beer and wine.  We are lucky to live where quality food and drink can be locally grown and consumed."
"The Farm2Fork Affair as an alternative form of trade show, is about building relationships between the producers in our rich agricultural area with industry consumers already using local foods in their menus and those who are interested in exploring what local offerings are available," said Courtney Cranor, member on the GART Board and Assistant Director of Economic Development & Tourism for Waynesboro.
Fields of Gold Coordinator Tracey Coltrain added, "We are thrilled about this event. It is an incredible opportunity for the Fields of Gold to showcase its Farm Trail members and all of the quality products that they have to offer restaurants, groceries, and even the everyday visitor to the farm. This will also help our farm-to-table restaurants and farm groceries to meet high quality local producers and make those critical business connections. It is truly a win-win for everyone, and we are happy to be a part of it!"
"Staunton Creative Community Fund's Taste Local Initiative is working to build a robust local food system by linking regional farmers with food businesses around the commonwealth," said Camille Dierksheide of the Staunton Creative Community Fund.
As a Farm2Fork program highlight, Chef Greg Barnhill of the OMNI Homestead Resort & Spa in Hot Springs, VA delivered the key note address focused on the importance of using locally-grown food.  Chef Barnhill also presented an inspiring cooking demonstration using Virginia products.
Agriculture and agritourism play a large role in the Staunton, Augusta County and Waynesboro ecosystem.  GART, SCCF and Fields of Gold proudly support the area's agriculture producers.