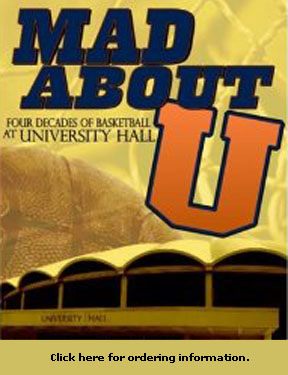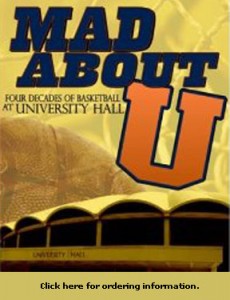 Grantland college basketball writer Mark Titus, feeling beloved by UVA basketball fans who apparently didn't let him pay for drinks during his visit to Hooville last weekend for the Duke College GameDay experience, felt compelled to kneecap his admirers with a not-at-all-original hot take.
Virginia fans are "emotionally fragile," Titus wrote, "perpetually afraid," "scared of losing Tony Bennett," "scared that maybe their team is overrated," among many other things that we're scared of, fear, assume is our ultimate fate.
Beset by doom and gloom, basically. That's UVA Nation, in a nutshell.
The basis for this hot take: "Relax, Virginia fans," Titus tells us. "Your team is still among the very best in the nation, with only three seniors on the roster. The future looks bright and the attention will be around for a while. Unless Tony Bennett leaves. Then you're screwed."
Ah, the Tony-is-going-to-eventually-leave-us-for-Wisconsin doomsday scenario. See what I mean about the take not being at all original?
Let's address this one right away: Tony Bennett is eventually going to leave Virginia. Actuarial tables tell us that in the end, yeah, bad news, we all end up dead. At some point between now and the end of days, Tony Bennett will join the rest of us in that.
So that part is guaranteed. Whether Tony leaves UVA for another job (Wisconsin, the NBA, mission work) is conjecture, which is, of course, what good sports columnists trade in, better for clicks and eyeballs, as I know all too well.
(Guilty as charged. Ahem, and thanks for reading!)
One way or the other, there is an end date to the era of good feelings in Charlottesville, be that a few years or a few decades, we all know that.
How UVA fans are any different than any other fan base attached to a currently successful D1 college sports program is worth more conjecture, don't you think?
Like, for example, if I was a Duke basketball fan right now, and I looked at Coach K, who turns 68 next week, I'd be wondering to myself, Um, gulp, how much longer does this go on? Because let's be honest, Coach K is going to retire a long, long time before Tony Bennett ever leaves UVA. The recent run of one-and-dones tells you that it's probably very soon, maybe around the 2016 Rio Olympics? Just speculating there, but it's not that much further into the future than the next Team USA gold medal.
And then what? If you think the transition post-Coach K is destined to be smooth, you're ignoring history. Eight miles down the road, UNC flubbed in giving the keys to Dean Smith's program to Matt Doherty before righting the ship with Roy Williams, who himself hits 65 this summer, and is facing his own existential crisis with the possibility of NCAA sanctions from the still-developing academic scandal at UNC.
So there's two ACC fan bases right there who have to be wondering about their near-term futures. And then what about Syracuse, facing sanctions with 70-year-old Jim Boeheim in the twilight of his coaching career? Rick Pitino at Louisville, at 62, probably has another six to eight years left before he fades into the basketball sunset, but that's still comparable to whatever UVA would face with Bennett maybe moving on from his current deal.
John Calipari at Kentucky is a year-to-year worry for UK fans, not as much out of fear that he'll jump to the NBA (again) than how the NBA's view of its labor situation vis-à-vis the eligibility of high-schoolers for its annual draft could change in an instant his method for accumulating talent.
Just these examples can go to show you that no matter what program you claim as your favorite, its success is fleeting and dependent upon the continued employment of a single guy at the top who is either aging toward retirement or a step or two away from being deemed irrelevant for one reason or another.
Now that I've added that context to the discussion, it's time to concede that, sure, UVA fans are as emotionally fragile as any other fan base out there, no question. Because we've seen a dynasty-in-the-making implode before. You've heard of Ralph Sampson, no doubt? Three-time national player of the year, every spring publicly considered jumping to the NBA, ended up staying all four years, but only made it to one Final Four, no national championships.
The coach who built UVA basketball from scraps in the early 1970s, Terry Holland, then took the first post-Sampson team to the 1984 Final Four, and four more NCAA Tournament appearances, including the Elite Eight in 1989, before stepping down way, way too early, in 1990, at the age of 48, due to recurring medical issues.
Holland turns 73 in April, so it's not out of the realm of making sense to assume had he not been forced by health issues to walk away at a time that is pretty much the prime of a coach's career that he may still be the coach at UVA, or at the least that a more natural retirement would have come at some point in the last five years.
Instead, the post-Holland era was marked by the flameouts of Jeff Jones, Pete Gillen and Dave Leitao before UVA plucked Bennett out of relative obscurity at Washington State, where he'd been the head guy for all of three years after playing and coaching with his father, the legendary Dick Bennett, around a brief NBA career.
Until the recent run of success of UVA basketball under Bennett, who led the Cavs to its first ACC Tournament title since 1976, in Holland's second year as head coach, a #1 national seed and the program's first Sweet 16 since Jones took the program to the Elite Eight in 1995, UVA basketball fans had at best distant, increasingly fuzzy memories of what it felt like to be attached to a successful program.
Speaking for me, personally, I was 11 years old the last time UVA made it to a Final Four, and a fresh UVA alum in 1995 when that team was a few minutes away from an upset of Arkansas away from that year's Final Four. Nine years ago, I co-wrote a book on the history of UVA basketball, Mad About U: Four Decades of Basketball at University Hall, and in the process of writing the chapters about the Sampson-Holland years thought that it would probably never get anywhere near the point of being that good again.
One of the ushers interviewed for the book put the Sampson years in an interesting light. The Sampson-era teams went 50-2 at home in his four years on Grounds, so the question for fans before tipoff wasn't who would win, but rather, how much will UVA win by? I was so young then that I took for granted that it would always be that way, and then in an instant, and for the longest time, it wasn't.
Seeing this year's 'Hoos at 20-1 and ranked third in the national polls, yeah, that old feeling is back again, and UVA fans who remember the glory days are gripping it tight, no doubt, and the new generation is as giddy as I was 30-plus years ago, and none of us want that feeling to go away.
I'd argue that unlike, say, Duke fans, or UNC fans, whose experience with down times is exceedingly limited (each has had one losing season since Sampson graduated from UVA in 1983; UVA has had seven), we get it that success can be a fickle beast, ephemeral by its nature, and that we're much better equipped to process the comedown than most other fan bases.
I'd then argue that Titus should cast his net out a little wider next time he visits. Because, sure, we're as fragile as anybody else, but there's a certain amount of recent lottery winner to our collective psyche that you miss by just focusing on the fragility neurosis.
– Column by Chris Graham