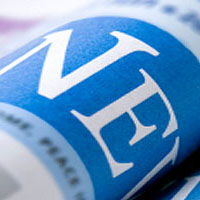 The Confederate general who fought and lost the Battle of Waynesboro will be the topic for Ted Hughes' first-person presentation of Old Jube on Tuesday, November 20 at WTA's Gateway.  The program will begin at 7 pm and the doors to doors open at 6:30.
Ted Hughes, a Ranger in the National Part Service and long time student of Civil War history, creates an engaging and informative presentation of Jubal Early,  Robert E. Lee's "Bad Old Man."
According to Hughes, "General Jubal A Early was one of those Confederate General's who got lost in the pages of history. His 1864 Valley Campaign has never drawn the attention of Stonewall Jackson's 1862 Valley Campaign.This is probably due to Early's  failure to produce the desired results that Jackson enjoyed in his 1862 Campaign."
Hughes' interest in Early has grown from his reserch into the devatation and horrors suffered by the civilian population during the Civil War.   "My interest in Early has grown over the years after researching how the civilians were coping.  The human side of war is often overlooked by historians and writers," said Hughes.
Old Jube is "set" in the pallor of Rose Hall, the home of the Gallaher family, on the evening of March 1, 1864, a few days before the Battle of Waynesboro. General Early and Florence Gallaher with friends and neighbors (the audience) share memories of how war has touched and affected their lives.
"Old Jube is not a presentation that discusses in depth battle strategy, numbers and movements. It is an entertaining 30-minutes one-act play which will give the audience a perspective on what Early witnessed in the final chapter of the Confederacy in the Shenandoah Valley, " said Hughes.
The presentation is sponsored by the Wayne Theatre Alliance and the Waynesboro Heritage Foundation.  There is no admission fee for the presentation.  However donations are gratefully accepted.