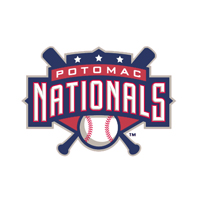 The Potomac Nationals (4-4, 2-2) outlasted the Carolina Mudcats in the series opener to earn a 4-2 win on Friday night at Pfitzner Stadium handing the visitors their first loss of the season on the road.
The Nationals struck first for the second consecutive ballgame with an RBI single in the 3rd inning from 2B Tony Rendabulleted into right field in the 3rd inning off Carolina LHP Ryan Merritt, who was non decisioned.
Merritt was solid through 5.2 innings allowing just one earned run on five base hits while walking a pair and fanning six men.
Nationals LHP Brett Mooneyham was wild at times but worked out of jams in the1st and 2nd innings leaving two base runners stranded after each frame, and overall was effective in giving the Nationals a chance to win.
Mooneyham went 4.0 scoreless innings and surrendered two hits while walking five and fanning two.
Potomac LHP Bryan Harper dealt 2.1 innings out of the P-Nats bullpen and gave up just two hits and an unearned run when 3B James Roberts reached in the 7th stanza when 3B Oscar Tejeda failed to glove a swept groundball his way. Mudcats CF Ollie Linton then belted a double to the right center field wall bringing Roberts to the plate and tying the contest at 1-1.
Off of losing pitcher, RHP Josh Martin (1-1), the Nationals rallied for three runs to break the tie after the 7th inning stretch.
With two outs, LF Randolph Oduber ripped a single into center field before advancing to second base on a steal and moving to third base on an errant throw over the second base bag and into right center field tossed by C Alex Monsalve.
Renda came up and rattled a slow dribbler to the left side of the infield and Roberts couldn't rush it to first base in time allowing Oduber to score giving the P-Nats a 2-1 advantage.
Unfortunately for the Nationals' faithful, Renda was injured on the play and went to his knee caps after coming up lame following the safe call at first base.
Nationals Head Trainer, T.D. Swinford accompanied Renda off the playing field and Renda was noticeably limping towards the dugout.
DH Mike McQuillan came in as pinch runner to replace Renda.
Next up to swing, Tejeda tattooed a two-run home run off Martin that collided into the same sign he hit yesterday in left center field to make it two four-baggers in two games and propel Potomac to a 4-1 lead.
Winning pitcher, RHP Travis Henke (2-0) pitched a gutsy 1.2 innings in which he gave up one unearned run on two hits with no walks and two K's.
Henke got the final two outs of the 7th on a pair of balls in the air and in the 8th, the righty gave up back-to-back singles to RF Anthony Gallas and SS Erik Gonzalez. 1B Jeremy Lucas raked a grounder that resulted in a failed double play attempt on a groundball to Tejeda at third base. 2B Adrian Sanchez tossed the ball through 1B Kevin Keyes after getting the force out at second base allowing Lucas to come home and yield a 4-2 score.
In the 9th with the Nationals on top 4-2, RHP Gilberto Mendez (SV 1) made it scary as Roberts was hit by a pitch, Linton grounded into a 6-4 force out to cut down Roberts, LF Todd Hankins singled through SS Stephen Perez, and 2B Torsten Boss grounded out to Keyes at first base putting two runners into scoring position.
Mendez then fanned Gonzalez swinging and C Pedro Severino gunned down to first base to complete the strikeout and ink the victory to put the Nationals at a .500 record overall and at home in 2014.
Potomac will cart out RHP Pedro Encarnacion (0-0, 2.25) to gun against Carolina RHP Cole Sulser (0-0, 0.00) on Saturdayevening for series Game Two which begins at 6:35pm.
Gates to The Pfitz will be open at 5:00pm tomorrow night and P-Nats fans will enjoy post-game fireworks and Kids Run the Bases courtesy of Glory Days Grill.
The Potomac Nationals Baseball Network, which is accessible at www.potomacnationals.com, will feature the live broadcast of Game Two beginning with the P-Nats Leadoff Show at 6:20pm on Friday evening.