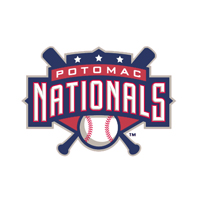 The Potomac Nationals (72-54, 34-23) split their Sunday doubleheader at Pfitzner Stadium with the Frederick Keys (59-68, 27-33) by losing 4-3 in Game One and crushing the Keys 12-1 in the nightcap.
The games were witnessed by the largest 2014 Pfitzner Stadium crowd as the Potomac Nationals announced an official attendance figure of 8,809.
With that doubleheader attendance turnout, the Potomac Nationals have broken the all-time single-season franchise attendance record that was set last season with 240,101 fans enjoying P-Nats Baseball in 2014.
Potomac's 11-run margin of victory in Game Two marked their largest triumph of the 2014 season by run differential.
The Nationals will go for their 20th series win in 2014 tomorrow night in the '14 regular season finale at The Pfitz.
With the twin bill split, the P-Nats now own a magic number of five meaning if the Nationals win five of their final ten contests, they will be guaranteed a second-half Northern Division Championship and in the process, will garner home field advantage in all three playoff games amidst the 2014 Carolina League Northern Division Series.
Nationals starter, LHP Hector Silvestre (1-2) was tagged for three earned runs on six hits and took his second loss. Silvestre struck out one batter, walked none, and allowed a two-run rocket over the left field wall to LF Brenden Webb amidst a three-run 2nd inning. Webb's 11th four-bagger came behind an RBI sacrifice fly lined out to left field by C Wynston Sawyer.
Frederick scored one run in the 5th off Potomac RHP Travis Henke when Keys 1B Trey Mancini punched a hard groundball that was batted down off the glove of Renda, who was drawn in towards the grass that was good for an RBI groundout scoring CF Johnny Ruettiger, who singled leading off.
Henke went 3.1 innings in relief of Silvestre and allowed just the one earned run two hits while fanning a pair.
Keys hurler, RHP Mark Blackmar (9-1) was very efficient for his ninth win of the season in the frontend ballgame.
Blackmar dealt a 7.0 inning complete game in which he allowed just three earned runs on four hits without walking a batter and fanning seven, a career high.
The Nationals scored three runs against Blackmar on a long, solo home run for DH Mike McQuillan clobbered over all three tiers of signage in right field in the 3rd inning, an RBI triple off the stick of 2B Tony Renda into the right-center field gap in the 6th stanza, and a 5-3 run-scoring groundout from RF Steven Souza Jr. in the same frame. McQuillan's long ball was his sixth deep shot this year.
Souza Jr. has gone 1-for-6 with one single, one stolen base, and one RBI during his rehab with the Potomac Nationals while on the mend from a left shoulder contusion.
P-Nats RHP Cody Davis pitched two perfect innings while garnering one strikeout.
Blackmar sat down the Nationals one-two-three in the 7th to edge the hosting club by one run.
In the nightcap, P-Nats RHP Ian Dickson dazzled through 6.0 no-hit innings and was pulled due to pitch count as the Nationals offense pounded out 12 runs on nine base hits to force Frederick RHP Dennis Torres (2-2) his second loss.
Dickson walked a season-high five batters but also struck out five hitters. The power righty induced five groundouts and two flyouts.
Dickson has now tossed 14.0 scoreless innings over his last two starts while allowing just a single base hit and striking out 13 batters.
Torres allowed five earned runs in 2.1 innings on three hits and four walks.
Torres along with Keys relievers RHP Jimmy Yacabonis, RHP Matt Price, and LHP Lex Rutledge combined to issue more walks (10) to the Nationals in one contest than any other game against any other opponent this season. Additionally, a total of six wild pitches were unleashed. (one from Torres, three out of the hand of Yacabonis, and a pair from Price).
Yacabonis served up three earned runs in 1.1 innings, Price allowed three runs (two earned runs) in 1.2 frames, and Rutledge allowed an unearned run in 0.2 inning.
Potomac got on the board courtesy of a 1st inning run-scoring double blasted to the top of the left field wall by Renda.
The Nationals submitted a four-run 3rd as DH Shawn Pleffner belted an RBI double to right field, 3B John Wooten sprayed a bases loaded, run-scoring single the other way to right field, McQuillan scored on a Yacabonis wild pitch, and Perez also was plated on a wild offering from Yacabonis.
Up 5-0, the P-Nats brought home three runs in the 4th when Perez banged a two-run single into center field and Wooten delivered Perez on an RBI double to the alley in right-center field.
One more run came in during the 5th frame when RF Brandon Miller cranked a mammoth solo homer to the tree line behind the left field stanchion. Miller's blast was his 13th dinger of the current Carolina League journey and it was served up by Price.
Potomac went up 12-0 with three runs in the 6th via an RBI fielder's choice groundball to Keys SS Adrian Marin by P-Nats 1B Estarlin Martinez, a bases loaded RBI walk worked by C Craig Manuel, and a sac fly off the lumber of CF Isaac Ballou.
With a combined no-hitter in line to begin the 7th, Nationals LHP Jake Walsh allowed a booming solo home run clout on the first pitch he offered to leadoff swinger, Frederick DH Chih-Hsien Chiang that stayed fair next to right field pole. The deep shot was Chiang's third homer as a member of the Keys and it was also the first round-tripper allowed by Walsh as a Potomac National.
Walsh worked through the rest of the 7th to seal the doubleheader share after the combined no-no was broken up getting 3B Jason Esposito on a fly out to right field, LF Lucas Herbst on a comebacker to the mound, and Webb on a flyout to left field to commence the two hour, 32-minute, seven-inning marathon.
On the final game of the 2014 regular campaign at Pfitzner Stadium tomorrow night, which will begin with a 7:05pm first pitch, the Nationals will send RHP Dakota Bacus (5-6, 4.47) to the mound to oppose Keys RHP Parker Bridwell (5-10, 4.79).
It's Fan Appreciation Night tomorrow at The Pfitz and P-Nats fans will receive a bevy of special P-Nats themed prizes on their way into the ballpark to prepare for the 2014 Mills Cup Championship Title run including rally towels sponsored by: My Plumber, Parkway Smiles Dentistry, Steven Forus' Farmers Insurance office, and Not Your Average Joe's in addition to 2015 magnet schedules presented by: Farmers Insurance and Jani King.