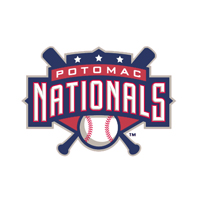 The Nationals (59-68-Overall, 30-32-Home, 26-31-Second Half) and the Keys (61-67-Overall, 28-37-Road, 29-29-Second Half) traded shutout victories in the twin bill with Frederick picking up a Game One 4-0 win and Potomac coming back with a Game Two 7-0 win on Tuesday night at Pfitzner Stadium.
RHP Taylor Mapes (4-3, 2.70) made the start in Game One that featured Washington Nationals 2B Dan Uggla and OF Tyler Moore in the lineup behind him.
Uggla made three trips to the plate, finishing 0-for-3 with a strikeout but did make three defensive plays in the field at second base. Moore started at first base and finished 0-for-2, reaching on an error and then flying out to left field.
RHP David Hess (9-3, 3.58) was brilliant for the Keys, logging the first complete game victory in his professional career in the 4-0 shutout win for Frederick. Hess gave up just one hit in his seven innings of work while issuing one walk and striking out five Nationals and improving his second half record to 7-0 with an ERA of 1.34.
The game was scoreless until the top of the third when Frederick scored three times when SS Adrian Marin walked to kick off the rally. 1B Yaisel Mederos singled, putting men on first and second. After a DH Conor Bierfeldt comebacker, 3B Derek Peterson lined a two-run single into centerfield for a 2-0 Keys advantage. LF Josh Hart then put a double into the left-centerfield gap bringing home Peterson for a 3-0 lead.
Frederick added an unearned run in the top of the third when C Wynston Sawyer struck out against Mapes but was able to reach base on a passed ball charged to C Craig Manuel. A RF Tad Gold groundout moved Sawyer to second base and Mederos reached on an error charged to 3B David Masters that brought home Sawyer from second base, an unearned run, that gave Frederick a 4-0 advantage.
Mapes lasted five innings, giving up four runs (three earned) on four hits, two walks and he struck out three. Mapes hurled 85 pitches with 55 hitting the zone in the loss.
LHP Justin Thomas came out of the bullpen and was exceptional for Potomac. Thomas pitched two perfect innings and of the six men he retired he struck out five of them.
Potomac mustered only one hit against Hess and he issued one free pass. The Nationals also had two men reach on errors in the ballgame but both were erased on the base paths.
Game Two saw RHP Ian Dickson (3-2, 3.57) make the start against RHP Mikey O'Brien (3-5, 1.94), who was coming off a seven inning no-hit effort against the Lynchburg Hillcats.
Potomac cracked the scoreboard first in the bottom of the third when LF Estarlin Martinez reached on an error charged to 3B Anthony Caronia and then scooted to second base on a CF Rafael Bautista groundout. After a wild pitch from O'Brien moved Martinez to third, DH Alec Keller brought home Martinez with an RBI infield single for a 1-0 advantage.
The Nationals added two runs in the bottom of fifth, which proved to be O'Brien's last inning, when 2B Khayyan Norfork walked. Two batters later Martinez hit an RBI double into the left-centerfield gap that scored Norfork from first base and pushed the National advantage to 2-0. Martinez moved to third on a Bautista infield single and then scored on a wild pitch, the second of the ballgame, by O'Brien for 3-0 lead.
O'Brien didn't last the fifth inning, pitching 4.2 frames and three runs (two earned) scored against him on three hits with three walks and five strikeouts in the loss.
Dickson danced through five innings of work just allowing one hit but walking four and setting a new season high with six strikeouts, throwing 85 pitches with 44 in the strike zone.
LHP R.C Orlan pitched a scoreless sixth inning, issuing two, two-out walks but ultimately ending the inning.
RHP Garrett Cortright entered the game and the Nationals, in the bottom of the sixth, blew the game open with four runs in the inning. With two outs and a runner, RF Brendon Webb, on second base after doubling, SS Stephen Perez snuck a ball through the right side for an RBI single to make it 4-0 Nats'. Norfork then walked and C Zach Wright lined an RBI single into left field for a 5-0 lead. Martinez hit a little comebacker and Cortright air-mailed the ball over the first baseman allowing both Norfork and Wright to score for a 7-0 lead for the Nationals.
That was the final as RHP Phillips Valdez entered in the top of the seventh and faced four men closing out the 7-0 nightcap victory for the Nationals.
Potomac is now 14-9 in shutout ballgames and 8-8 in double header games in 2015. The Nationals are now 8-13 against the Frederick Keys and their elimination number is down to 6.
The rubber match series finale tomorrow night will see the newest member of the Potomac Nationals, RHP Tanner Roark (0-0, 0.00) make his first start in the Carolina League this season against LHP Luis Gonzalez (5-10, 6.79) for the Keys.
First pitch is set for 7:05 pm from Pfitzner Stadium and you can tune in starting at 6:50 pm with "The P-Nats Lead-Off Show." You can listen live via the TuneIn Radio App or at www.potomacnationals.com.
Wednesday night at the ballpark features a Belly Buster night as well as Good Deeds Night presented by ACTS.