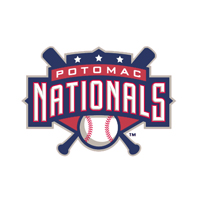 The Potomac Nationals (44-36, 6-5) were outplayed by the Wilmington Blue Rocks (38-43, 5-8) at Frawley Stadium on Tuesday night and fell by the final score of 8-2 after the Blue Rocks went 4-for-9 with runners in scoring position.
The Nationals are now (4-3) in their head-to-head matchups with Wilmington during the 2014 season.
The Blue Rocks ended a six-game losing slide with the victory in the series opener of three contests in Wilmington, Delaware.
Blue Rocks RHP Luis Santos (1-1) claimed his first win in the Carolina League this season after carrying his early momentum through 5.2 innings in which he allowed just one earned run on three hits while walking one and fanning a pair.
Santos was perfect through 3.0 innings before allowing a leadoff single to Nationals 2B Tony Renda in the 4th inning.
Renda went 2-for-3 with a walk in the matchup to join RF Randolph Oduber as the only P-Nats swinger with a multi-hit affair.
Wilmington plated one run in the opening inning against Potomac LHP Matthew Spann (5-3), who suffered his fifth loss of the campaign.
The P-Nats southpaw surrendered eight runs, five earned, on seven hits and walked one while striking out a batter.
This was the second straight start for Spann in which he gave up five earned runs.
Spann allowed Blue Rocks SS Raul Mondesi aboard with a high-arching bouncer over the head of P-Nats 3B Oscar Tejeda, and in the inning Mondesi scored on an error charged to Nationals SS Stephen Perez. The hitting star of the game, Wilmington 1B Michael Antonio swept a ball through the legs of Perez to bring home Mondesi.
Antonio was 2-for-4 with two runs scored, two doubles, and three RBIs.
A four-hit, four-run frame for the Blue Rocks in the 4th created a 5-0 advantage for the home club. Antonio shot an RBI double to left-center field, DH Cam Gallagher lofted a sac fly to right field, LF Cody Stubbs gashed a run-scoring triple to the alleyway in left, and a Spann wild pitch summoned home the fourth run.
The first run of the game for Potomac was scored in the 5th after DH Shawn Pleffner blasted a leadoff triple into the wall in left-center which led to an RBI single nailed into left field off the lumber of Oduber.
In the 5th stanza, the Blue Rocks stepped on the offensive gas pedal again with a three-run spot. A throwing error committed by Renda gave Mondesi first base, CF Bubba Starling was grazed on the lead leg by a Spann pitch, Antonio yanked a two-run double to a similar spot as his first two-bagger, and Gallagher also belted an RBI double to put Wilmington on top 8-1.
Blue Rocks RHP Aroni Nina got the final out of the 6th on a fielder's choice groundball from Pleffner before hanging a zero in the 7th by striking out the side.
The P-Nats scored their last run of the game in the 8th against Blue Rocks RHP Zeb Sneed. Potomac 1B Estarlin Martinez ripped a low, line-drive infield single off the glove of a diving Antonio around the first base bag, and after Renda collected his second single of the night, Tejeda punched one through the right side for an RBI single to yield an 8-2 score.
Former Wilmington Blue Rocks slinger, RHP Sam Runion provided some silver lining as the reliever dealt 3.0 scoreless innings. Runion allowed just two hits and one walk.
In the 9th inning, the Nationals did not go quietly and put together a rally attempt but it came up short. Wilmington LHP Kyle Bartsch did not allow a run but did let two P-Nats reach base. Oduber connected on a soft liner to right field that was down for a one-base knock and LF Mike McQuillan drew a walk to put two runners aboard with no outs. Nationals CF Will Piwnica-Worms cranked a hard comebacker up the middle off the quarter-high socks of Bartsch and the Blue Rocks reliever was able to recover with a barehand pickup to get Piwnica-Worms at first base moving two runners into scoring position. Then, P-Nats C Craig Manuel, in his 2014 P-Nats debut, struck out swinging for out number two. A terrific defensive play ended the clash. Martinez rapped a grounder towards the middle and Blue Rocks 2B Jack Lopez ranged far to his backhand side, got the ball in his web, and went into a jump throw pushing off with his left spike heaving the baseball to first base just in time to cut down Martinez.
Game Two of this three-game road set in Wilmington, Delaware will be ignited on Wednesday night. First pitch is set for 7:05pm with the P-Nats penciling in RHP Brian Rauh (1-1, 3.86) as their starting hurler. Rauh will gun against Wilmington LHP Sean Manaea (2-7, 4.83).