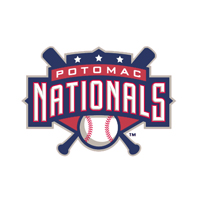 The Potomac Nationals (32-27, 16-16) shocked the Wilmington Blue Rocks (29-30, 16-14) with two runs in the 9th inning to take a 3-2 rubber match victory on Thursday night at Frawley Stadium which inked their seventh series win of the 2014 campaign.
A throwing error committed by 18-year-old Blue Rocks SS Raul Mondesi allowed pinch runner, Justin Miller to score from second base in the final inning which gave the Nationals a 3-2 lead they would not relinquish.
This was the second victory of the season for the Nationals when the club trailed after eight innings.
Blue Rocks closer, RHP Mark Peterson (1-1) suffered his first blown save in 12 save chances and first loss of the season.
The P-Nats have now won seven of their last eight ballgames.
The Nationals improve to (14-6) in their one-run games after claiming one-run wins in each of the last two contests.
Blue Rocks starter, RHP Christian Binford was stellar through 7.0 innings on the mound in which he allowed just one unearned run on five base hits without surrendering a walk and while fanning seven batters.
Binford retired his last 11 batters after allowing a single to LF Randolph Oduber in the 4th inning.
Nationals starting pitcher, RHP Dakota Bacus, like Binford, did not receive a decision despite pitching well after gunning through 6.0 stanzas. Bacus gave up two earned runs on six base hits with three walks and four strikeouts to his line.
The P-Nats scored a run in the opening frame on an RBI single lined into right field by 3B Oscar Tejeda which extended his clubhouse-lead in runs batted in (36).
The Blue Rocks answered with two runs off Bacus in the bottom of the 4th as DH Michael Antonio sprayed a run-scoring double into the gap in left-center field before 1B Mark Donato blooped an RBI double into the left field corner to give Wilmington a 2-1 advantage.
Blue Rocks RHP Zeb Sneed tossed a perfect 8th inning to get the ball to Peterson in the 9th but not before Wilmington threatened to tack on insurance in the 7th.
Nationals RHP Wander Suero (2-1), the eventual winning pitcher, saw teammate, LHP Kylin Turnbull allow back-to-back sharp singles to Mondesi and CF Bubba Starling before Suero retired the next three batters in succession. Blue Rocks 3B Hunter Dozier struck out swinging, C Zane Evans skied out to center field, and Antonio fanned hacking.
Suero hung a zero in the 8th with a one-two-three frame.
Suero struck out a trio in 2.0 scoreless innings en route to his second win of the season.
Against Peterson in the 9th inning, Potomac used a leadoff double from SS Stephen Perez which scored on a two-bagger cranked to dead center field over the head of Starling by 1B Shawn Pleffner. Miller, pinch running for Pleffner's double came around on a two-out hard groundball off the stick of 2B Khayyan Norfork that was bobbled by Mondesi and then thrown away through Donato at first base allowing Miller to be plated.
The save went to RHP Gilberto Mendez (3 SV) after the righty reliever gassed LF Terrance Gore on a swinging K, induced a 4-3 groundout off the bat of Mondesi, and got Starling swinging to seal the epic comeback victory for the Potomac Nationals.
Potomac will continue battling the Wilmington Blue Rocks (Kansas City Royals) in an upcoming weekend series from Friday, June 6th through Sunday, June 8th to make six straight head-to-head meetings between the Northern Division opponents.
washington nationals LHP Gio Gonzalez (0-0, 0.00) makes a rehabilitation start in Game One as the southpaw is on the mend from left shoulder inflammation against Wilmington RHP Luis Santos (0-0, 3.00).
The Potomac Nationals Baseball Network, accessible by heading online to www.potomacnationals.com, will broadcast live coverage of the series opener with Wilmington on Friday night. beginning with the P-Nats Leadoff Show at 6:50pm before the play-by-play at 7:05pm.