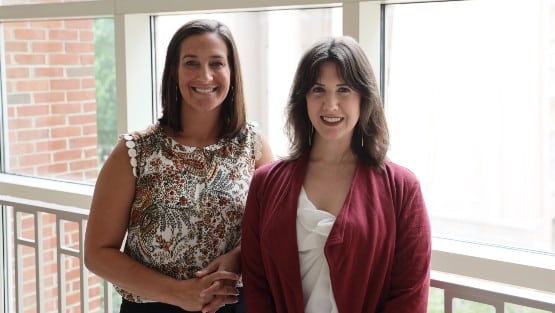 A $1.5 million grant from the U.S. Department of Defense (DOD) has been awarded to a team of clinical psychologists at VCU Massey Cancer Center.
The four-year grant will help the team treat insomnia suffered by military members, veterans and their beneficiaries, as well as the general public, who have been diagnosed with brain cancer.
"Insomnia is a mental health diagnosis in and of itself, but is also associated with other psychological concerns, including anxiety, depression, post-traumatic stress, substance abuse and suicidal thoughts and behaviors," Dr. Ashlee Loughan, a clinical neuropsychologist, director of the LiveNOW Lab and member of the Cancer Prevention and Control research program at Massey, said. "Treating insomnia in brain cancer patients has the potential to impact a wide range of mental health and life quality concerns, particularly relevant to the military population and its beneficiaries."
A sleep disorder which includes trouble falling asleep, staying asleep or getting quality rest, insomnia is common among individuals with brain cancer. Insomnia affects active service members significantly more than the general population. Nearly half of veterans experience insomnia compared to 6 to 10 percent of the general public. Active and retired military service individuals have an elevated risk for brain cancer compared to other occupations. The third most common cause of cancer death among active-duty service members in the U.S. is brain tumors.
Grant funding is provided through the DOD's Behavioral Health Science Award. Loughan will lead an initiative to implement behavioral intervention strategies for the effective treatment of insomnia in active military members, veterans and their family members with brain cancer, as well as brain cancer patients in the general public. The work will be done through the LiveNOW Lab at VCU, established by Loughan in 2017 to advance research focused on neuro-oncology wellness.
Dr. Autumn Lanoye, a clinical psychologist and assistant director of the LiveNOW Lab at Massey, will support Loughan and the grant-funded initiative. Lanoye began working under Loughan's clinical supervision as a graduate student in 2015 and observed high rates of sleep complaints but wanted more information about the nature of insomnia in brain cancer at Massey.
"Our first step was to survey patients at Massey's neuro-oncology clinic to learn more about how widespread of an issue this was, how sleep disturbance impacts the daily functioning of our patients and most importantly how patients wanted sleep to be treated," Lanoye, also an assistant professor of internal medicine and associate professor of neurology at the VCU School of Medicine, said.
Based on survey results, Loughan, Lanoye and other team members determined that approximately half of respondents expressed interest in treatment options that did not include medications. One option is Cognitive Behavioral Therapy for Insomnia (CBT-I), a drug-free approach that incorporates educational, behavioral and cognitive intervention strategies to treat sleep disturbance. The intervention focuses on participants' negative thoughts, emotions and behaviors associated with poor sleep. Proven to be an effective, non-pharmacological treatment for insomnia, CBT-I is recommended as the front-line treatment option by the American College of Physicians and the American Academy of Sleep Medicine. CBT-I has been shown as widely effective for the general military population, but has not been extensively evaluated in individuals with brain cancer.
"The results of this project will help determine whether this therapy and its research components are feasible, acceptable and whether the intervention demonstrates clinically meaningful improvements in insomnia severity for individuals with brain cancer," Loughan said. "If eventually deemed effective in larger phase 3 clinical trials, CBT-I could be implemented as the primary treatment for insomnia in neuro-oncology patients, instead of sleep medication such as sedatives, which have many potentially harmful side effects."
The research project will build on a previous, first-of-its-kind trial conducted by Loughan's team that uncovered promising results toward the implementation and benefit of CBT-I in brain cancer patients in the general population.
Patients will be recruited for the program through Massey's partnership with the Richmond VA Medical Center and a national launch on neuro-oncology social media platforms. Participants who are randomized to the CBT-I intervention will meet with a trained interventionist for weekly 90-minute sessions, during which they will learn methods to identify, challenge and reframe thoughts and feelings that contribute to insomnia; redirect behaviors that interfere with sleep; implement effective control over mental stimulation; improve sleep hygiene and efficiency; and restrict the amount of unproductive time spent in bed.
"It's almost like we reset their sleep clock while also breaking the negative associations they have with sleep. Many of our patients report years of sleep disturbance, and it's time we address this issue," Loughan said.